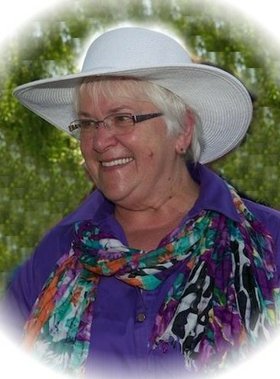 Roberta Rutherford
April 7, 1939 - January 9, 2013
Roberta Rutherford passed away Jan. 9, 2013. Her passing was unexpected and leaves much heartache with her family and friends.
A time to celebrate her life and mourn her passing is planned for 2 p.m. Friday, Jan. 18, at First Baptist Church of Stevenson, Wash., 252 N.W. Roosevelt St., with Pastor Glenn Daman officiating.
Roberta and her twin brother, Richard, were born April 7, 1939, in Santa Rosa, Calif., and she was the youngest of the three children to Frank and Helen (Holden) Hayes. She grew up in and around Healdsburg, Calif.
Roberta shared many stories of working in the hop and prune fields as a young child. She loved to fish with her dad on the Russian River and any other place that they could spend time together.
Roberta attributes her faith in God to her dad's steadfast faith and assurance that she was raised in the church. She enjoyed attending church and youth activities. She graduated from Healdsburg High School and attended Healdsburg Junior College.
She married Thomas Rutherford in 1960, and had four children: sons Donald, Mark and Darwin, and daughter Cindy. The family moved to and settled in Cascade Locks, Ore., in January 1967.
Roberta raised her children in Cascade Locks, and encouraged them in their school and sports activities. She moved to Stevenson, Wash., in 2002. Her hobbies included reading, canning, cooking, sewing and gardening.
Family was very important to Roberta and her hobbies also included time with her family such as camping, fishing, attending her grandchildren's school and sports events, family reunions, family dinners and other family activities.
Some of her most memorable times were the many camping and fishing trips to Lost Lake, Ore., and family reunions at Gold Beach, Ore., and the annual Christmas cookie/candy bake.
Roberta's faith in God and her church family were also an important part of who she was and what she enjoyed.
Roberta started her long career in the secretarial/administrative arena as a secretary at the Healdsburg Junior College. She also worked in several restaurants and even owned her own deli/restaurant along with her sister, Laura Foster, in Cascade Locks for a couple of years.
While holding most of these jobs, Roberta was also a homemaker for her four children. She was working as a secretary/receptionist at the Skamania Physical Therapy Office in Stevenson, Wash., at the time of her death.
Roberta is survived and will be dearly missed by her brother, Frank Hayes, and his family, from California; daughter Cindy Bradley and her husband, Russ, of Carson, Wash.; son Donald Rutherford and his wife, Bobbi Crawford, of Tacoma, Wash.; son Mark Rutherford and his wife, Karen Kay, of Cascade Locks; and son Darwin Rutherford and his fiancée, Mandy Blaisdell, of Carson, Wash.
She is also survived by her 10 grandchildren: Kendall, Tiffany, Caitlin, Steffany, Kristen, Katie, Brandon, Robbie, Courtney and Stephen; four great-grandchildren: Emma, Aden, Callie Mae and Sven; and other family and many, many friends that she has collected over the years.
She was preceded in death by her twin brother, Richard; mother, Helen (Holden) Hayes; father, Frank Hayes; and sister, Laura (Hayes) Foster.
Memorials are encouraged to be sent to the LaCamas Credit Union in Stevenson, Wash., in Roberta's name and can also be sent in care of Anderson's Tribute Center, in Hood River, Ore., also in Roberta's name.
Arrangements are under the direction of Anderson's Tribute Center (Funerals, Receptions, Cremations), 1401 Belmont Ave., Hood River, OR 97031; 541-386-1000. Please visit www.andersonstributecenter.com to leave a note of condolence for family.

Condolences are being received online.