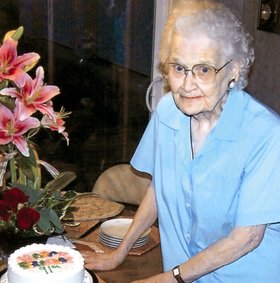 Magda A. Nesbitt
July 13, 1919 - January 11, 2013
Magda A. Nesbitt, a resident of Hood River, Ore., since 1974, passed away at Providence Hood River Memorial Hospital Jan. 11, 2013.
She was born to Norwegian immigrants on July 13, 1919, in Enid, Mont., the oldest of three children born to Anna and Severin Strand. She grew up on a homestead until moving to Sandpoint, Idaho, in 1937, where she finished school by correspondence.
Their farm was next to the Nesbitt farm, where she met and fell in love with John N. Nesbitt, which began a marriage in 1941.
During World War II they lived in Renton, Wash., where John worked on B-17s for Boeing. Son John M. was born there in 1942. After the war they moved back to Sandpoint, where daughter Kathryn, son Michael and daughter Linda were born. Then they followed heavy construction in the western states.
In 1964 Magda broke both her legs in seven different places in a rockslide, which put her in the hospital in The Dalles for six months. This made life difficult in later life but she still managed to walk until 93 years of age.
In 1974 the family moved to Hood River, Ore., where John helped his son manufacture fruit-hauling trailers and then went to work for the school system as a custodian.
Magda's passion was putting in thousands of hours of research on biblical accounts, filling many notebooks with typed and hand-written articles on the subjects. Besides being a homemaker she was also a perfectionist, sewing for the family when they were younger and fashions for her all through life.
Magda is survived by son John M. Nesbitt, of Hood River, daughter Kathryn Mitchell, of Tucson, Ariz., son Michael E. Nesbitt, of Flagstaff, Ariz., and daughter Linda Cox, of Mesa, Ariz.; brother Oscar Strand, of Sandpoint, Idaho; five grandchildren, seven great-grandchildren and many nieces and nephews and their children.
She was able to live on her own until the last two weeks of her life, when she depended on the staff of Providence Hood River Memorial Hospital and the Hood River Care Center. The family would like to thank these professional people as well as the super help from the Hood River Fire Department's EMTs. Without these people the end of life would have been unbearable!
Private cremation was held at Gardner Funeral Home. A memorial service will be held at a later date.