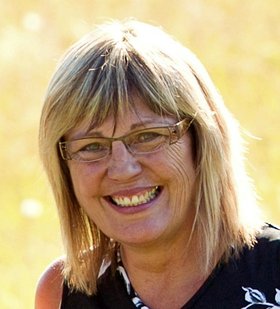 Joni Michelle Spade
February 18, 1961 - June 22, 2013
Joni Michelle (Doke) Spade, 52, a longtime teacher with deep Hood River roots, passed away in her Reno, Nev., home Saturday, June 22. She was born in Hood River, Ore., Feb. 18, 1961, to Billie (Perkins) Doke and Clarence Joseph Doke.
Joni graduated from Western Oregon University with a degree in education. She began her elementary school teaching career with the Elkton, Ore., school district before moving to the Sweet Home, Ore., school district, where she was selected as 1993 Teacher of the Year.
In 1995, Joni relocated to Reno and continued teaching at the elementary school level with the Washoe County School District.
Joni taught at Echo Loder Elementary School and Dodson Elementary School in Reno. She was a sixth-grade teacher at both schools before becoming an intervention teacher at Dodson Elementary from 2011-12. For the 2012-13 school year, she was a fifth-grade teacher at Westerguard Elementary School. Joni was chosen one of the outstanding teachers at Echo Loder Elementary School in 2011.
Although her career took Joni to Nevada, she always called Hood River her home and planned to retire here.
Joni was preceded in death by her son, Michael Boyle, 22, who died in Reno July 3, 2011.
She is survived by mother, Billie Morris, of Martinez, Calif.; brother and sister-in-law Jeff and Sue Doke, of Martinez, Calif.; brother and sister-in-law Mike Doke and Janice Willy, of White Salmon, Wash.; and sister and brother-in-law Patti and Dave Trail, of Olympia, Wash.
She is also survived by Allen Boyle of Bend, Ore.; nieces Marti Doke, Sarah DeLong and Hannah McFadden; nephew Jesse Doke; and numerous family members and friends in Reno, Oregon and Washington.
Joni approached every day with zest, humor and kindness. She was a committed educator who found joy in her students. Joni was particularly successful working with disadvantaged and troubled children, and she looked forward to being with them at school each day. She also enjoyed music, sports and dogs.
Joni's greatest satisfaction was raising her son, Michael, who attended University of Nevada-Reno before being shot and killed in a tragic incident in downtown Reno two years ago. Joni battled for justice in Michael's death, becoming an advocate for victims' rights.
Two Celebrations of Life gatherings are planned. The first occurred Saturday, July 13, at Mt. Rose Ski Resort outside Reno, the same location where Michael's memorial was held.
Saturday, July 27, there will be a family gathering at the Pine Grove Butte Cemetery gravesite of Joni's grandparents, George and Lillie Perkins. It will be followed by the second Celebration of Life, which will be held at Mt. Hood Winery beginning at 6 p.m. All family and friends are welcome.
Memorials may be given in Joni (Doke) Spade's name to Adopt A Dog Inc., c/o Donations, 3910 Heron Drive, Hood River, OR 97031, or the Washoe County Regional Animal Shelter, 2825 Longley Lane, Suite A, Reno, NV 89511.