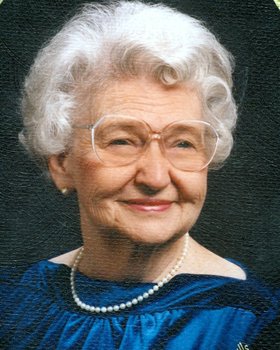 Rachel Adeline Shields
July 15, 1922 - July 19, 2013
Rachel Adeline (Worthen) Shields, the beloved matriarch of the Jack Shields clan based in Hood River, Ore., passed into Heaven on Friday, July 19, 2013. She passed as she had lived — dignified, feisty, loved, among family and on her own terms.
Her service will be held at 2 p.m. on Wednesday, July 31, at the First Baptist Church of Hood River, 1889 Belmont Drive. There will be a potluck following the service in the church Fellowship Hall.
Rachel was born on July 15, 1922, in Murphysboro, Ill., to Elmer Henry and Edith Susannah (Kilby) Worthen, their third and last born and baby of the family. By 1930, the family had moved to the itinerant logging town of Shevlin, Ore., which moved to a new logging site, houses and all, once the current site was logged off. Life there was unencumbered by modern conveniences so moving was easy. La Pine, Ore., eventually became her home.
Fate was already working in her life when her brother, Paul Worthen, introduced her to her one and only true love, Lester (Jack) Earl Shields, a maverick Canadian who had left home at age 14 to work the oil fields in Canada and then to cross the southern border to work on logging teams in Idaho and Oregon.
Jack and Rachel were married on Sept. 14, 1940, in Vancouver, Wash., and they started a family two years later and stopped 14 years later with five kids. They also were home to foster children, so the house on Multnomah Street in rural Hood River was full of laughter and hijinks.
Jack passed away in 1966 and Rachel had to begin providing for herself and her family. She had been working in the fruit packing houses while still married, but the full burden of raising two young girls fell squarely and heavily on her shoulders. Rachel had to struggle to find work and apply for credit, even to buy a car.
As more women moved into the workforce in the early 1970s, there was no daycare for their children or for migrant workers. Rachel first began addressing this issue with her characteristic passion and organization on a committee, which culminated in the establishment of the Asbury Child Care Center. She was quickly moved into the directorship and stayed for 14 years, tireless in her care and advocacy of young children.
She led a church-centered life in the First Baptist Church of Hood River and was deeply involved there. She sang in the choir for decades, served as a deaconess, and served on committees to hire pastors and work through other church matters. Whether asked or not by church leaders, she would "offer" her forthright assessment of given situations.
In 1993 she was appointed Ombudsman for the Elderly for the State of Oregon and named a delegate to the 1995 White House Conference on Aging in Washington, D.C., by Gov. John Kitzhaber. Rachel was speaking for the disenfranchised and often invisible or forgotten folks in nursing homes. Who better to get the attention of the inattentive but a person who had lived in an age where women had been disenfranchised and dismissed as unimportant to the larger society?
Rachel served in her church's missionary program in 1985-86 on the Ivory Coast of Africa where every letter home was an amazing story of deprivation but hope. Years later she carried on similar missionary work in China. When told she had well exceeded the age limit (she was in her 70s), she said, "Well, I feel 35!"
In her community, she was a Hood River Woman of the Year who taught water aerobics at the Hood River Sports Club, was chaplain of the Family Council at the Hood River Care Center, and confidante and friend to many of the residents of Down Manor where she later resided.
Rachel was preceded in death by her husband, her son Lester Paul, her sister Mary Melba House (Worthen), her brother Paul Edward Worthen, and grandchildren Jill and Sonja.
She is survived by her four children: Davie Ray and his wife, Trish, Timothy James and his wife, Nancy, Pamela Sue and her husband, Rod Boettcher, and Karmel Jane and her husband, Gregory Robinson; 11 grandchildren and 19 great-grandchildren. She was surrounded at the time of her passing by 16 of her family.
For the gentle but persuasive person she was, for the lessons she taught and modeled, for her clarity of purpose and resolve, for her quiet yet passionate love of her God, for her love of and holding accountable her family, for her acceptance and love of so many, Rachel Shields will be loved and remembered by her family because their lives were made better and more conscientious by her life.
Donations may be made in memory of Rachel to the nonprofit Family Council at the Hood River Care Center (P.O. Box 551, Hood River, OR 97031) and the First Baptist Church of Hood River (1889 Belmont Drive).
Arrangements are under the direction of Anderson's Tribute Center (Funerals, Receptions, Cremations), 1401 Belmont Ave., Hood River, Or 97031; 541-386-1000. Please visit www.andersonstributecenter.com to leave a note of condolence for family.

Condolences are being received online.