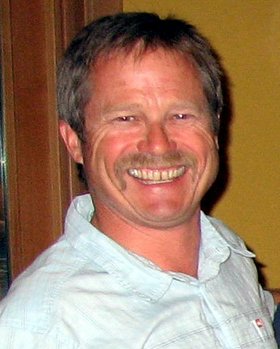 Rhys Miles Harriman
January 15, 1960 - June 5, 2013
Rhys Miles Harriman passed away in a tragic accident on Wednesday, June 5, 2013. He was born Jan. 15, 1960, in Boston, Mass., the son of Ann Rees Harriman and Charles Palmer Harriman of Falmouth, Maine.
Rhys was a loving husband, son, father, uncle, brother and friend. He graduated from Falmouth High School in Falmouth, Maine, in 1978 and received his Bachelor of Arts degree in business in 1982 from Hartwick College in Oneonta, N.Y.
Rhys was an avid backcountry skier and windsurfer. He worked for several outdoor companies such as Teton Mountaineering, Life Link and Teton Gravity Research in Jackson Hole, Wyo., and most recently, the Gorge Surf Shop in Hood River, Ore. He was a licensed real estate appraiser for Rocky Mountain Appraisals in Jackson Hole, Wyo.
He coached soccer and ice hockey and worked as a dorm parent at Red Top, a residential treatment center for young boys in Wilson, Wyo. He was a fervent environmentalist who was committed to maintaining the trails on which he loved to ride and testing the quality of the water of the Columbia River through his volunteer work at Riverkeepers.
Rhys was a loving and enthusiastic father; always willing to jump wholeheartedly into every aspect of his children's lives. He was also a wonderful friend — he listened to people's tribulations with a sympathetic ear and greeted everyone with an affable smile.
His determination was astounding in that he could be found sailing with a smile on his face; loving any wind condition that allowed him to be on the water.
He and his wife, Kelly, enjoyed spending the winter months in Baja, Calif., windsurfing and exploring the peninsula. Everywhere he went — Baja, Jackson Hole, Hood River and Maine — he had wonderful friends who appreciated his love for life and his enthusiasm for the outdoors.
Rhys is survived by his wife, Kelly Dennis; sons, Tobin and Dillon Dennis; his father, Charles Palmer Harriman; his sisters and brothers-in-law, Melinda Harriman and John Barry, of Littleton, Colo., and Katrina Harriman Conde and Juan Conde, of New Canaan, Conn.; his brother and partner, Graham Harriman and Scott Kirkham, of New York City; and his nieces and nephew, Kendall Harriman Hartzell, Haley Harriman Conde and Jesse Harriman Barry.
He was predeceased by his mother, Ann Rees Harriman.
A memorial service was held Sunday, June 9, at the Falmouth Congregational Church.
A celebration of Rhys' life will be held Saturday, June 15, 5 p.m. at Rhys and Kelly's home in Underwood, Wash. Please bring something for potluck dinner and stories to be shared.
In lieu of flowers, donations may be made to Red Top Meadow School, P.O. Box 290, Wilson, WY 83014, or Columbia Riverkeepers, Hood River Office, 111 Third St., Hood River, OR 97031.
To leave messages of condolence and view photographs please visit www.jonesrichandhutchins.com.

Condolences are being received online.