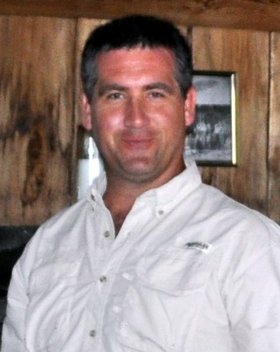 Erick Jon Krussow
September 9, 1967 - June 11, 2013
Erick Jon Krussow passed away on June 11, 2013, after a hard-fought battle with cancer. Erick was born Sept. 9, 1967, to John and J. Patricia Krussow. Erick attended Hood River Valley High School where he graduated in 1985.
After high school he attended an automotive trade school and worked as a mechanic for many years before returning back home to help run the family farm in Pine Grove and also worked for Hood River County.
He farmed up until the fall of 2002 when his high school sweetheart made her way back to Oregon and once again stole his heart. He made the cross-country move to Destrehan, La., to be with Niki and her kids, which very quickly became his family, too.
He was preceded in death by his mother, J. Patricia Krussow.
Erick is survived by his fiancée, Niki Landry, and his daughters-by-choice Kayla Williams and Morgan and Mariah Landry; his two granddaughters, Kallie Grace and Kinzlea Williams; and his son-in-law, Justin Williams. He is also survived by his father, John Edgar Krussow; his two brothers, Mick and Brian Krussow; and his three sisters, Molly McCord, Moriah Krussow and Carmen Krussow; and several nieces and nephews along with many friends who loved him like family.
An open celebration of his life will be held at the Hood River County Fairgrounds 4-H building, 3020 Wy'east Road, Hood River, at 5 p.m. on Wednesday, June 26. In lieu of flowers, donations in his name may be made to Hospice Compassus, 2424 Edenborn Ave., Suite 230, Metairie, LA 70001.