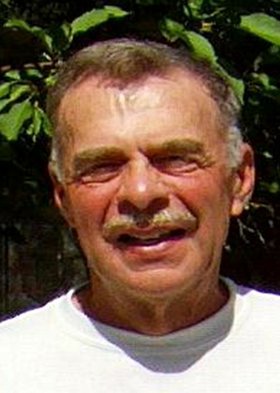 James Louis Farring
September 4, 1944 - June 16, 2013
(Written by James Farring)
James Louis Farring was born Sept. 4, 1944, to George Wiley Farring and Ruth Ellen (Bolender) Farring in Cincinnati, Ohio.
In about a year they made their pilgrimage to Weirsdale, Fla., as a family where Mother Ruth fell ill with strep throat and passed away due to complications and severe infection, leaving the family without a mother. Dad was devastated but was unwilling to split the family up between his brothers and sister to raise, so he kept the family together.
Some close friends of the family knew of a single lady, Edith Mary Watt, who served as a missionary with Wycliffe in the hills of Virginia after being born and raised in Motherwell, Scotland. They were soon married and she took on the loving responsibility of raising four young children, including little Jimmy who needed a mommy so badly.
Due to poor health issues of Mother Edith and the rigors of life in the lonesome deep Northern Florida woods, orange groves, rattlesnakes, alligators and bugs, the family moved to 915 W. Concord St., Orlando, Fla., in summer 1950.
The first weekend in Orlando, I was enrolled at Concord Park Elementary School first grade right about my 6th birthday Sept. 4, 1950. I later attended Memorial Junior High for middle school, where I earned my learner's permit to drive a car and took courses in driver's training at school.
Summer 1958, a life-changing trip with (Rip) Hugh Starnes, Glenn's best friend from Ben Lippen prep school, to spend all summer with Uncle Bob, Aunt Hazel and their family picking strawberries, beans and raspberries. Fell in love with the Northwest.
When I returned home I knew that I wanted to work to help pay my way as much as possible for the remaining years of high school so I got a job at the Downtown A&P Market on South Orange Avenue for the next four years.
Spring 1962: Graduation from Edgewater High School, family trip, month-long, 9,000-mile Western U.S. tour, World's Fair in Seattle, Wash., Vancouver Island and Vancouver, British Columbia, Canada. We returned home and I accepted a job at Martin Company, missile manufacturing factory working on the Pershing surface-to-surface missile and then moved to the Gemini Project printed circuit board construction.
I was laid off when forces were cut by 1,100 people after Martin was awarded a multi-million-dollar contract to design and build the Patriot anti-missile defense system.
I returned to Northwest in May 1963 with my brother, wife and new daughter to seek work with the U.S. Forest Service. Upon arrival I got down to the last application of seven I had sent in before leaving Florida to learn I had a job the following Monday where my sister-in-law's brother was also to report for work the same day at Trout Lake, Wash. at Mt. Adams Ranger District. God's leading!
After working in campground maintenance for about a month I was asked to fill a vacancy at Midway Guard Station at which time I was introduced to my new working partner, Jim Allaway, since the job required two people to man the outpost. After a busy and exciting summer of work I returned to Florida where I attended the spring term at Orlando Junior College pursuing a mechanical engineering degree.
I returned to the Northwest with Dad driving my old 1954 Ford to Mt. Adams Ranger Station, back again to Midway Guard Station with my good friend Jim Allaway. This year he persuaded me to apply for next fall schooling to Judson Baptist College of Portland, Ore., for the fall term. I did apply and was accepted. I reported for school about a week late.
Jim told a young lady friend of his that a young man was coming that he worked with all summer who was originally from Florida and he had a car. Well she met me at the front door of the college cafeteria the day I arrived with a red dress on, introducing herself as Mary Lou Shockley. I kind of knew I had met the Love of My Life at that moment!
After my sophomore year at Judson I returned to Mt. Adams Ranger Station to work for the summer again but with another working partner, Jim Norton, from Florida also. The summer was busy with talk of a fall wedding and all of the planning being done with a lot of trips between Trout Lake and Hermiston for obvious reasons.
September 19, 1965: Jim and Mary Lou's wedding day. Very happy days of our lives, we were so much in love and wanted to spend the rest of our lives together. After the wedding we traveled to Prineville, Ore., to visit my Aunt Hazel and Uncle Bob Farring on our way to Honeymoon at Wallowa Lake Lodge for the rest of our trip in the cabin by the lake.
This spot became our favorite place to vacation for the rest of our summers together. We didn't miss many summers vacationing at this beautiful spot for 47 years.
We began making plans and preparing for our first child to be born in late November 1966. Loss of our first child resulted in being subject to the draft in the middle of the Vietnam War.
I received draft notice from the U.S. Army but had made previous plans to turn it over unopened, to the U.S. Navy when it arrived. That day I was told to report to Portland the following Monday morning for my pre-induction physical. I was officially in the Navy! I served nine weeks in boot camp at San Diego, Calif., and then reported for duty on the USS Canberra CA-70 for sea duty with a possibility for rapid deployment to Vietnam. Fortunately we had some time together since we did not have to leave until just before Thanksgiving of 1967 for a nine-month deployment.
Services to honor Jim's life and mourn his passing are planned for 1 p.m. Saturday, June 29, at Hood River Christian Missionary Alliance Church, 2650 Montello Ave., Hood River, with Pastor Steve Grace officiating. A private family graveside service with military honors at Willamette National Cemetery will precede his memorial service.
Donations are encouraged to be made in memory of Jim to the Gorge Good Timers.
Arrangements are under the direction of Anderson's Tribute Center (Funerals, Receptions, Cremations), 1401 Belmont Ave. Hood River, OR 97031; 541-386-1000. Please visit www.andersonstributecenter.com to leave a note of condolence for family.

Condolences are being received online.