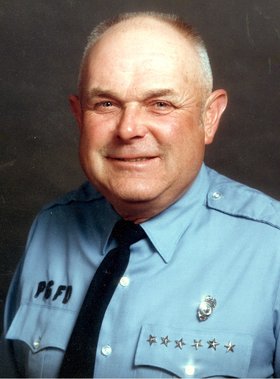 Edward "Eddie" Riddell Lage
July 28, 1936 - June 23, 2013
Edward "Eddie" Riddell Lage, 76, a lifelong resident of the Hood River Valley, passed away Sunday, June 23, 2013, at Brookside Manor in Hood River, with family by his side. Eddie was born July 28, 1936, in Hood River, Ore., to Edward Riddell Sr. and Mary Athalie (Miller) Lage.
A service to celebrate Eddie's life and mourn his passing is planned for 1 p.m. Friday, June 28, at Hood River Valley Christian Church, 975 Indian Creek Road, Hood River. Interment will be at the Pine Grove Butte Cemetery.
Eddie is the fourth generation to run the family orchard and packing house. He graduated from Wy'east High School in 1954 and was at Oregon State for two years, taking agricultural classes. He left college to help his father, Riddell, build a cold storage and packing house. Eddie was in the National Guard for eight years.
He saw the LOVE of his life one day while she was disking a field with a Cletrac crawler and told his workers, he would like to marry a girl like that. Little did Eddie know his dreams would come true: On Nov. 17, 1963, Eddie and Joan were married; that same girl he saw two years earlier.
In 1964 he adopted Joan's two children, Carolyn Lee, 8, and Daniel Thomas, 5. Eddie completed his family with another daughter, Heidi Lynn, in 1967, and Leland "Lee" Edward, in 1970.
Eddie worked hard on the family orchard along with his dad, son Lee, sister Judy, brother-in-law Kent and nephew Brad. The orchard was his full-time hobby, along with being a volunteer fireman for 56 years and an active member of the Crag Rats.
Skiing was a family fun time and he was on the national ski patrol for 25 years. Eddie, a Scout himself, became an advisor for several years with his son Lee's troop. He was on the Pine Grove Fire Department district board, Future Farmers of America advisory and Washington and Oregon Canning Pear Association.
Eddie joins his dad, Riddell, sister Judy and daughter Carolyn.
He is survived by his mother, Athalie Lage; wife of almost 50 years, Joan; son Daniel (and wife Chrisanne) of Johnstown, Colo.; daughter, Heidi (and husband Kelly Kilgore), of Underwood, Wash.; son Lee (and wife Trisha) of Pine Grove, Ore.; numerous grandchildren and great-grandchildren; sister Betty Lou Riffe, of Loreto, Mexico; brother-in-law Kent Lambert; niece Jennifer (and husband Marcus Goldstein) and family; nephew Terry Lambert and family; nephew Bradley Lambert (and wife Christy); and other distant family and many, many friends that he has collected over the years.
Memorials are encouraged in Eddie's name to one of the following charities; Boy Scout Troop #282 or #378, Pine Grove Fire Department or Dogs for the Deaf, and sent in care of Anderson's Tribute Center, 1401 Belmont Ave., Hood River, Or 97031; 541-386-1000. Please visit www.andersonstributecenter.com to leave a note of condolence for family.

Condolences are being received online.