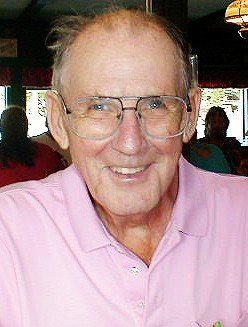 Benjamin "Ben" Howard Beam
April 6, 1923 - March 3, 2013
Benjamin Howard Beam was born April 6, 1923, in Minneapolis, Minn., to Joseph William Beam and Mildred Iona (Harper) Beam. He was the third born of seven siblings.
His early years were spent in Willow Creek, Mont., attending Willow Creek Grade School until the fifth grade when the family moved to Trout Creek Ridge, Ore., and bought a logged-over 10-acre stump farm.
Ben attended Dee Grade School from sixth to eighth grade and Parkdale High School until graduating in June 1940 when he was student body president.
After finishing high school, Ben took on various jobs and attended college until World War II when he became a naval aviator flying Grumman TBF torpedo bombers for Composite Squadron 93, commissioned Feb. 23, 1944. During war campaigns, Ben was awarded the Distinguished Flying Cross, five Air Medals and area ribbons.
Ben left active duty in December 1945 and returned to college at Oregon State (OSC) in January 1946 where he graduated with honors with a Bachelor of Science in electrical engineering in June 1948.
Ben married Helen Lois Clayton, who was also attending OSC, in September 1947; they had two children: Chuck, in 1949, and Dick, in 1952.
Ben's first position after college was as a research engineer at NASA Ames, Moffett Field; Ben was featured in the July 18, 1956, issue of Life magazine model-testing the F-104 fighter. He worked at Ames until 1974, eventually becoming a division chief before civil service retirement.
Ben founded Beam Engineering as a consulting firm in 1974; the company later specialized in design-build-install engineering jobs for various companies. Beam Engineering was closed in 1992 when Ben retired.
Ben has always been a social "joiner," serving on the vestry at Christ Episcopal Church Los Altos, an active adult member of the Boy Scouts, chairman of the American Society of Mechanical Engineers, chairman of the American Society of Heating Refrigerating and Air Conditioning Engineers, and a member of SIR (Sons in Retirement).
In 2005, Ben was diagnosed with macular degeneration and, eventually, became legally blind, limiting his involvement in the above-listed societies.
Ben passed away on March 3, 2013, while battling congestive heart failure during his final days. He remained courageous and a best friend until the end and will be missed dearly by his surviving family and friends.
A memorial is planned for March 18 at 2 p.m. at Christ Episcopal Chapel, 1040 Border Road, Los Altos, Calif.
Survivors are his wife, Helen Clayton Beam; sons, Charles Howard (Louise) Beam and Richard Manning (Laurie) Beam; and grandson, Brian Howard Beam. Also surviving are brothers Clifford Eugene Beam and James Lawrence Beam.
Ben was preceded in death by his parents, Joseph William and Mildred Iona Beam, and siblings Virginia Adamson Lee, Charles William Beam, Kenneth Joseph Beam and Chester Ronald Beam.
Donations may be sent to the Boy Scouts.