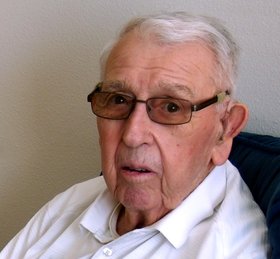 Bob Woody
November 11, 1923 - April 26, 2013
Bob Woody is returning to Hood River on May 25 to be with his wife, Evelyn, and son, Michael. He was born on Nov. 11, 1923, and grew up in a small home on the southern edge of the Hood River Golf Course with his parents, twin brothers and sister. His father died in a fishing accident when Bob was very young and he was raised by his mother.
From caddying as a child in Hood River to the fairways of Augusta National and Pebble Beach, golf was always an important part of his life. Not only was it a source of recreation but it was also a center of his social life.
Bob was a Navy pilot during World War II and shortly after the end of the war, in 1945, married his high school 'hood sweetheart, Evelyn Parks. After the war they returned to Hood River where he began his successful carrier with Standard Oil, driving a delivery truck to wholesale accounts.
Their three sons, Steve, Mike and George, were all born in Hood River and shortly after pouring the foundation for their first home he was promoted to a sales position in Medford. By the time he retired in Seattle in 1983 his promotions had taken him from Medford to San Francisco, Cedar City, Reno, Everett, Seattle, Spokane and back to Seattle.
With his outgoing personality, everywhere they moved they formed lasting friendships with their neighbors, at the local golf clubs and with co-workers.
In retirement he used his Sahalee Country Club membership to play golf several times a week, kept his management skills sharp directing a team of gardeners who helped him to keep their property in perfect condition and sponsoring family expeditions to Maui.
When Evelyn passed away in 2003 after 53 years of marriage, Bob was devastated. The family was very worried about his mental and physical condition until he connected with an old friend. They were wonderful together and a perfect match for each other.
Fran Stevens and Bob were married in 2006 and were able to share many great years together before she passed away in 2011.
In February Bob was diagnosed with congestive heart failure. As he became weaker he moved in with his son Steve and daughter-in-law Carol.
Wednesday the 24th of April was an unusual sunny 80-degree day. In the morning Bob and Steve drove to Brittany Park, where he had lived for the past six years. Many of his friends and the staff were around to tell him how much they missed him and how special he was to them.
Bob had been gaining weight on home cooking and on the way home they stopped and he purchased some new pants. In the afternoon they sat in the sun in the backyard, visited with the nurse from hospice and talked of days gone by. That evening at the dinner table he was vibrant and happy, reminiscing about all of the great times he had experienced.
Prior to going to bed, with a ear-to-ear grin, he said, "I didn't think this day would ever come!" He slept most of the day on Thursday and early on Friday morning, April 26, 2013, he passed away peacefully in his sleep.
He is survived by his sons Steve and George Woody, his granddaughters Christine Smith, Leigh Woody, Shannon Raney and Amy Stocki as well as five great-grand children.
He was a special individual who cared deeply about his friends and family. All of us who know him will miss his wit and wisdom. Bob enjoyed a long and successful life; right up to the end he always did it his way.