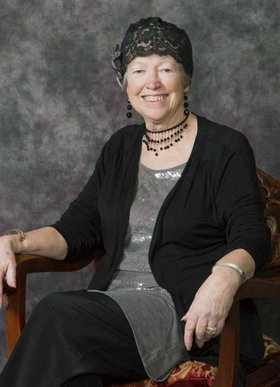 Patricia "Pat" Anne Wixman
December 12, 1939 - May 22, 2013
Patricia Anne "Pat" Wixman, 73, passed away Wednesday, May 22, 2013, at home and surrounded by her family. Patricia was born Dec. 12, 1939, in Looe, Cornwall, England, to Arthur J.B. and Vera May (Baugh) Lawry.
Her family soon moved to Plymouth, Devon, England, where she spent her earliest years amid the terrible bombings which Plymouth received during World War II. These bombsites became her childhood playgrounds.
Pat graduated high school at 15 and had a scholarship to attend a school of art but family circumstances forced her to join the workforce. She worked at Clark Shoe Company and later at a wallpaper shop in Plymouth.
Her hobbies at the time were hiking, swimming and ballroom dancing at the Guild Hall on Saturday nights. She loved to hike alone on Dartmoor, a dangerous place, and was a member of a hiking club. She developed a strong sense of independence and confidence.
At age 21 she decided to work her way around the world so she applied for a visa to come to America and with sponsorship and a job lined up as a governess for two children of a physician in New Rochelle, N.Y.; she arrived on April 1, 1961. Once her contract was fulfilled she left her employer and got herself an apartment and a job at Barricini's candy shop (like See's Candy).
One fateful day she and some friends decided to visit Greenwich Village where lived one young student named Harvey. They met by accident at the Fat Black Pussycat Coffee Shop and he soon thereafter became the love of her life. They married on July 15, 1961, and have lived and loved for the last 52 years.
While he was in college Pat supported Harvey on her meager income. She got a job in a Wall Street brokerage and then, when he entered NYU School of Dentistry she was employed as a receptionist for 17 pediatric specialists who had private offices in Columbia Presbyterian Hospital, New York. Pat worked there until one week before the birth of her first child, Marc. Tracy came along a year later and Harvey graduated dental school.
Harvey joined the Air Force as a dentist with the rank of captain and served from 1969-1971. They lived in Wichita Falls, Texas, at Sheppard AFB.
After the service, they moved to Portland, Ore., to open a dental practice. Harvey practiced in Portland until 1974 on 124th and Halsey on the east side. They lived in Bridlemile in the West Hills of Portland in a house that Pat designed.
In late 1974 the opportunity arose to start a practice in Hood River and, wishing to "countrify" their lives and that of their children they moved to Hood River. Pat supported the practice by serving as part-time receptionist and full-time advisor. She was the owner-operator of their orchard and converted the crop from pears to cherries. For a time she produced and sold a barbecue sauce and marinade under the name of Hood River Sauces.
In 1976, their daughter Victoria was born and in 1979, their son Jon.
In 1980, Pat finally got Harvey into dancing, an activity they would share for the rest of her life. They advanced through square dancing into round dancing and then ballroom dancing and finally, approximately 12 years ago, into the dance they adored, Argentine Tango. They loved tango so much that with virtually no other tango dancers locally they decided to teach it at the Hood River Elks and have done so for the past five years.
Pat is survived by her husband, Harvey; her four children: Marc, Tracy, Victoria and Jon; and six grandchildren: Brandon Smith, Anna Cates, Joshua Smith, Jordanna Wixman, Makena Wixman-Richards and Austin Wixman, into all of whom she has instilled her independent spirit. She will be missed.
The family is holding a Celebration of Life in Pat's honor at 6 p.m. Thursday, May 30. The celebration will be held at Anderson's Tribute Center. All are welcome to attend.
Arrangements are under the direction of Anderson's Tribute Center (Funerals, Receptions, Cremations), 1401 Belmont Ave., Hood River, OR 97031; 541-386-1000. Please visit www.andersonstributecenter.com to leave a note of condolence for family.

Condolences are being received online.