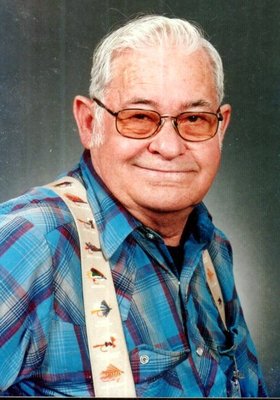 Cecil Jackson Carter
December 3, 1929 - November 7, 2013
Cecil Jackson Carter, 83, of Hereford, Ariz., passed away Nov. 7, 2013, in Sierra Vista, Ariz. He was a longtime resident of Hood River, Ore.
Cecil was born Dec. 3, 1929, to James McKnight and Cora Haley (Pugh) Carter in McLean, Texas. They moved from there to Big Heart, Okla., and then in May 1941 they moved to Hood River, Ore.
On Nov. 2, 1950, Cecil married Beverly Kay Garrett in Hood River. To this union were born three children: Debra Lyn, Lawrence Paul and Jeffery Allen. While married to Beverly he joined the Army on Nov. 22, 1950, and was discharged on Sept. 4, 1956, as a private first class. Cecil and Beverly divorced in 1960.
On Feb. 18, 1961, Cecil married Alice Lavernia "Verna" (Montgomery) Bohnas in Las Vegas, Nev. They lived most of their marriage in Arizona and to this union a set of twin sons were born: Kevin Ray and Cecil Jay "CJ." He also raised two stepsons: Arlen Leroy and Robert Dean Bohnas. Cecil and Verna divorced in 1983.
In 1984 Cecil moved back to Hood River, where he worked with his brother James "Carl" in the woods logging. He loved to be either at the lake or on the river fishing. He really didn't care what lake or river as long as he could catch a fish.
In 2010 he moved back to Arizona with his stepson Arlen and family where he has resided until his death.
Survivors include children Debbie (Mike) Maybee, of Alaska, Larry (Karen) Blunck and Jeff (Joleen) Blunck, all of Oregon, Kevin and CJ, of New Mexico, and Arlen (Connie) Bohnas and Robert (Cindy) Bohnas, all of Arizona; sister Lucy Olive "Joy" O'Brien, of Arizona; sister-in-law Maxine (Swyers) Carter and brother-in-law Harley "Buster" Davidson, both of Hood River; 17 grandchildren, 25 great-grandchildren, and many, many more relatives and friends.
Cecil is preceded in death by his parents; two brothers, James Carl and Con Tony; a sister, Jewel Marie Davidson; and one granddaughter.
Memorial contributions may be sent to either Arlen Bohnas, 8566 E. Chippewa St., Hereford, AZ 85615, or donated to a cancer society of your choice in his name. A memorial service and burial will be held at a later date in Hood River, Ore.
Jensen's Sierra Vista Mortuary, 5515 S. Highway 92, Sierra Vista, Ariz., is handling the cremation arrangements.