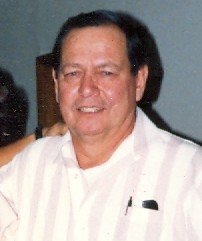 Keith "Bob" James Wagner
July 24, 1929 - November 17, 2013
Keith "Bob" James Wagner, of Hood River, Ore., was born in Helena, Mont., July 24, 1929, to Leona Gray. Bob passed away on Nov. 17, 2013, at the Oregon Veterans Home in The Dalles, Ore., where he had resided since January 2011. He was a Navy veteran, serving from June 30, 1947, to July 20, 1954. He grew up in Babb, Mont., with his adopted parents, Jack and Margaret (Gray) Wagner, who preceded him in death; Jack in 1978 and Margaret in 1982.
Bob attended high school in Browning, Mont.; also officer's and flight training on the East Coast.
From the time he was a little kid, Bob always wanted to fly. When he was 8 he built some wings, and tried to fly off their barn at Babb, and broke his arm. But he did fulfill his dream, and became a great pilot. He married Mary "Billie" Adams at Babb. They had four children: Rickie, who died as an infant, Gail, Russ and Candy.
He moved his family to Hood River, where he stared his own spray and charter flying business, with Billie in the office and Russ one of his pilots.
Bob was an avid musician; you name it, he could play it. The guitar was his main instrument, but he could play them all. Bob loved trap shooting and was "good" at it.
In 1989 he and Joyce Gehrig were married, and were still together at his passing. As partners they built and ran a lodge for 15 years on his home place near Glacier National Park. Of course he built an airstrip and had a band. He retired in 2003.
Bob was preceded in death by a grandson, Brandon Wagner, and granddaughter, Lorraine Wagner, children of Gail Wagner; stepson Anthony Gehrig; step-grandson Mario Lourenco (whom he taught to play banjo), son of Linda Adams.
Bob is survived by Joyce Wagner, Billie Wagner, children, Gail, Russ and wife Debbie, Candy, stepson Ronnie Adams; grandsons Ryan (Wagner) Ensley, Matt Wagner, Casey Wagner and wife, sons of Russ; and Dillon Wagner, son of Gail; sister and brother-in-law Carol and Oran Gorage, of Oak Harbor, Wash.; stepdaughters Linda Adams and Laura Miller, who played a big part in his life, as did all his family.
He is also survived by his former son-in-law Tim Chambers, and Gerald Gray, his last remaining cousin; good friends for many, many years, Al and Liz McCoy, and his prized kitty, Tuxeessee, aka "Tuxie."
Bob's Indian name was "NET-O-TAH-POO-WKA," which means "walks alone." He will now fly with the angels /no wires. No services are scheduled at this time.
Arrangements are under the direction of Anderson's Tribute Center (Funerals, Receptions, Cremations), 1401 Belmont Ave., Hood River, OR 97031; 541-386-1000.
Please visit andersonstributecenter.com to leave a note of condolence for family.

Condolences are being received online.