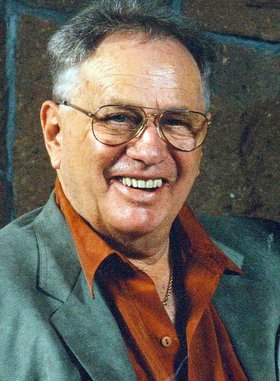 Carroll J. Tveidt
July 24, 1924 - September 28, 2013
Carroll J. Tveidt passed away Sept. 28, 2013, at the Oregon Veterans Home in The Dalles, Ore. Carroll was born to Carl and Hazel Tveidt in Valley Springs, S.D., on July 24, 1924.
The Norwegian heritage that Carroll knew from childhood was extremely important to him and his family and still is to this day. Norwegian culture and traditions have been a major part of family life, especially at Christmas time when the family partakes of the traditional Norwegian foods.
Carroll was in the Marine Corps from 1943 until World War II was over in 1945. He was extremely proud of his Marine service and remained proud of his service his entire life. While Carroll was stationed in Bremerton, Wash., he married Ferne Olson on April 15, 1944. They were married for 69 years.
In fall 1948 Carroll, his father and Haakon Strand bought a store building on Forest Lane in Cascade Locks from Will and Ida Carlson. They subsequently opened a grocery store called "Strand & Tveidt." In spring 1949 Carroll's wife, son Jay, and daughter Cheryl moved to Cascade Locks. In 1957 Carroll and Ferne bought out Haakon Strand at which time the grocery store was renamed "Tveidt's" grocery. Carroll was very innovative in that he made up his own grocery ads, printed them himself and then mailed them to local residents as well as residents across the river.
During 1949 Carroll went to Oregon State University for an education in architecture. From 1955 to 1959 he used that education to design and build a cabin for Haakon Strand and a residence duplex for his family of five in Cascade Locks. His other daughter Jannine was born in 1954.
Carroll enjoyed learning. He went to the Portland Art Museum for classes in sculpture and produced many fine sculptures. He and his son, Jay, hiked the Pacific Crest trail from Snoqualmie Pass, Wash., to White Pass, Wash., in 1962. They had hoped to get to the Columbia River but due to heavy snow and a difficult donkey they had to abandon their trip.
Carroll also educated himself, with the help of two survival experts, in outdoor survival skills and techniques. He had a major adventure when he and two other men flew to the Yukon Territory in June 1967.
After their arrival they put two large rubber rafts into the Mackenzie River where they proceeded to float down the river to Inuvik in the Yukon Territory. Their original destination was the Beaufort Sea; however, due to gear failure and weather they were unable to complete their trip.
In later years Carroll and Ferne traveled to China, Australia, New Zealand, Fiji and many countries in Europe.
The Tveidt grocery business grew so much over the years that the "Old Store" building became too small. During the years of 1972 to 1974 the urban renewal project in downtown Cascade Locks allowed for a new store building. "Tveidt's Sentry" opened in 1974. During that time they also built a motel, "The Scandian Motor Lodge." Carroll was a driving force for the urban renewal project. This project allowed for new businesses in the downtown area of Cascade Locks.
Carroll was very active in supporting and promoting the future of Cascade Locks during his 40 years of living there. He was a city council member at one time as well as a port commissioner. During the time he was on the port commission he was very creative in his thinking and actively researched ideas for income-producing projects. He supported the idea of the sternwheeler wholeheartedly. He even designed the flag that flies aboard the top of the sternwheeler.
Carroll was very proud of the fact that Celilo Chief Tommy Thompson's wife, Flora, adopted Carroll and his daughter, Jannine, into her tribe during a ceremony in the Long House in Warm Springs. Flora was a good friend to the Tveidt family. She always wanted the family to call her "Grandma."
Carroll and Ferne sold Tveidt's Sentry and the motel in 1989 and moved to Hood River.
Carroll is survived by his wife, Ferne Tveidt; brother, Jerome Tveidt; sister, Judy Lakin; children, Jay (Gunnvor) Tveidt, Cheryl Shafer, and Jannine (Jerry) Ekker; four grandchildren and eight great-grandchildren.
Memorials are encouraged to be made in Carroll's name to the Hood River Valley Adult Center Meals on Wheels program.
Arrangements are under the direction of Anderson's Tribute Center (Funerals, Receptions, Cremations), 1401 Belmont Ave., Hood River, Or 97031; 541-386-1000. Please visit andersonstributecenter.com to leave a note of condolence for family.

Condolences are being received online.