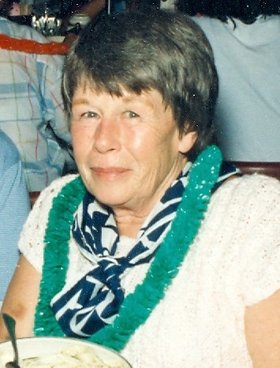 Ethella Josephine Cramblett
February 5, 1922 - September 27, 2013
Ethella Josephine (Blied) Cramblett, 91, passed away peacefully Sept. 27, 2013, at Parkhurst House in Hood River. An only child, Ethella was born Feb. 5, 1922, to Hamer and Ethella Adeline (Mobley) Bleid in Portland, Ore. Her father brought her up with the love of jazz music and took her to see Duke Ellington when she was young.
Although she was a Portland girl, her grandparents had acreage and a summer home on the lower bench at Cape Horn next to the river where she learned to love the Columbia River Gorge as well.
While in high school, she was an accomplished swimmer. Her coach invited her to swim at the Aero Club to race against the Olympic swimmers. She graduated from Washington High School in Portland in 1940.
Working as a telephone operator for Pacific Northwest Bell, she was the first person in Portland to hear of the bombing of the Oregon Coast during World War II. She was promoted to a supervisory position and roller skated from operator to operator, a skill she learned at Oaks Park Roller Rink.
She was introduced to her husband, Harry Cramblett, by her father, the lead painter at Bonneville Dam, who worked with Harry. Ethella and Harry were married Sept. 26, 1942, and lived in Portland for one year. She loved to dance with Harry, and apparently they could really "cut a rug"! Then they settled in Cascade Locks, where they raised five children.
A love of the beach was acquired from her parents, and so the Cramblett family took annual vacations to either Seaside or Long Beach every summer.
Ethella loved the English language, had beautiful handwriting, and although she could have been a superb journalist, she chose to support her husband and children. She was a Scout den mother for her three sons and took her youngest daughter to Boy Scout Camp Meriweather, again supporting her husband, the Scout Master.
All of her children participated in tumbling, tap dance or ballet. Since Ethella didn't drive for the first 10 years of their marriage, she took all five children on the Greyhound bus which traveled old Highway 30 to downtown Portland to do seasonal clothes shopping.
During the 1960s, when two of her three sons were in the service, one in Vietnam, she was an advocate against the Vietnam War and marched in Portland, Salem and Olympia, Wash. As a member of the Southern Poverty Law Center, she was also a strong advocate for racial equality.
When Harry was superintendent of the city lights and there were power outages, Ethella would receive phone calls from concerned citizens. She would kindly explain that the crew was attending to the outage, and the problem would be repaired as quickly as possible.
Sometimes they received phone calls for other needs as well, maybe firewood or milk for a baby. Ethella taught her children to answer the phone politely and take messages so that their father or Ted Klapprich could attend to whatever the need was.
Ethella and Harry were Hood River County Democratic Committee chairpersons, and she was a strong supporter of Harry's involvement with the Port of Cascade Locks.
Ethella was a lover of all animals, but especially enjoyed the four German shepherds that she had over the past 40 years. She enjoyed her walks in the wooded areas around Cascade Locks as well as in the park and out on the island. Since swimming was a lifetime commitment, she received awards in racing as a Master Swimmer.
Ethella was preceded in death by her darling Harry.
She is survived by her daughter, Kathy Sundby, of Bismarck, N.D., sons Larry and Tom Cramblett, of Cascade Locks, Ore., son Jon Cramblett, of Portland, Ore., and daughter Joeinne Caldwell, of Cascade Locks; 15 grandchildren, 33 great-grandchildren and five great-great-grandchildren.
Memorials in memory of Ethella may be made to either the Oregon Humane Society or the Salvation Army. The family will have a private celebration of her life.
Arrangements are under the direction of Anderson's Tribute Center (Funerals, Receptions, Cremations), 1401 Belmont Ave., Hood River, OR 97031; 541-386-1000. Please visit andersonstributecenter.com to leave a note of condolence for family.

Condolences are being received online.