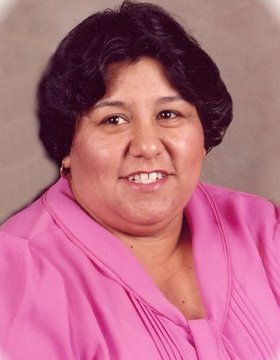 Celia "Sally" Mariscal
February 5, 1952 - October 9, 2013
Celia (Sally) Dominguez Mariscal passed away at the age of 61 from a long battle with cancer on Oct. 9, 2013, at her home surrounded by her loved ones. She was born in Blythe, Calif., on Feb. 5, 1952, the first of 15 children to Antonio and Juana Dominguez.
She was married Feb. 3, 1973, to her husband of 40 years, Santos Mariscal. She has three children: Julian, Santos Jr. and Alicia.
Sally loved to volunteer, working at the Columbia Gorge Center and for 10 years at Helping Hands Against Violence. Then on Sept. 2, 1977, Sally helped co-found the family business, Dominguez Family Enterprises (Juanita's Fine Foods) where she worked for 36 years until she retired in September 2013.
Sally had many hobbies: She loved to read; she loved shopping — especially Christmas shopping — and loved to crochet and knit.
Her most favorite thing was spending time with her family. She loved taking trips to Disneyland with her kids and grandchildren, and family trips to the coast.
Sally was a woman of God. In December 2006 she had a spiritual rebirth and was baptized as a Seventh-Day Adventist, along with her husband, Santos.
She is survived by her husband, Santos; her children: Julian and his wife, Celeste, Santos Jr. and his wife, Maria, and Alicia and her husband Enrique; her grandchildren: Xavier, Xoah, Aisayah, Xai, Santos III, Cielo, Saphire, Jairo, Mia, and Isaac; her mother, Juana Dominguez; seven sisters: Virginia, Rosemary, Lena, Gracy, Carmen, Maggie and Christy; seven brothers: Luis, Joe, Al, Gonzalo, Tony, Rey, and Freddie; and numerous nieces, nephews and in-laws.
She is preceded in death by her father, Antonio Corral Dominguez, and niece Jazmine Dominguez Viramontes.
She was a very giving and unselfish person always thinking of others. We will miss her big smile and her big hugs!
Services were held Monday, Oct. 14, at Alliance Church, followed by graveside rites at Pine Grove Butte Cemetery.
Arrangements under the direction of Anderson's Tribute Center (Funerals, Receptions, Cremations), 1401 Belmont Ave., Hood River, OR 97031; 541-386-1000. Please visit andersonstributecenter.com to leave a note of condolence for family.

Condolences are being received online.