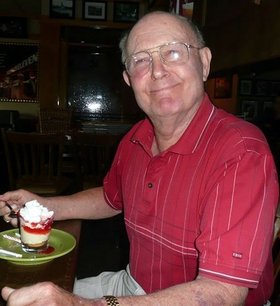 Donald Graves
April 25, 1930 - October 9, 2013
Donald Graves died on Oct. 9, 2013, of complications from colon cancer, with his family by his side. Don was born on April 25, 1930, in Shenandoah, Iowa, to Ross and Dorothy Graves. He was the eldest of three sons; brothers Merrill and Norman were born thereafter.
The family owned a farm in Farragut, Iowa, and lived there until they moved to Odell, Ore., in 1948. Don stayed behind to finish his last year of high school before joining the family in Oregon.
Don's love of the land and sports began in Iowa. While in high school he played both football and baseball — both loves that stayed with him throughout his life. He was a diehard Dallas Cowboys and Seattle Mariners fan. He never missed a game — he watched the final game of the Mariners season at home with his family.
He took up golf in the mid-'80s and golfed almost daily after retirement for the next 30 years. He and his wife, Avis, loved to go to the golf tournaments that came to Portland. For many years, they spent the winter in Palm Springs, Calif., where Don could golf daily and they could both attend the Nabisco Dinah Shore Tournament, which they loved.
When they moved to Tigard two years ago, they purchased a home on the 7th hole of the Summerfield Golf Course so that Don could have a golf course outside his door. When his body didn't let him golf anymore, he could sit on his patio and watch the golfers go by.
Don enlisted in the Army on Oct. 10, 1950. While on a three-day pass to go home and get his car, he met Avis Meyers on March 25, 1951. They were engaged two months later.
In early July, Avis took the train to meet Don in Colorado. They were married on July 14, 1951, in Boulder, Colo. Later that month they moved to Alaska where Don was stationed. They lived there until early September 1953. Their daughter Debbie was born shortly thereafter on Sept. 8, 1953, at Fort Lewis Army Base.
Once Don was discharged from the Army on Oct. 9, 1953, they moved back to Hood River. Don worked for Stadleman's Fruit Growers and a local service station. Their daughter Judy was born on Oct. 30, 1955, followed by daughter Betsy on June 13, 1958.
Don became a Chevron dealer and got his own Chevron service station on May 18, 1957. He worked there with Avis by his side until Tucker Road was expanded and Chevron built him a new station down the road, which opened on Aug. 22, 1968.
For 35 years, Don took care of the cars for all of Hood River Valley. He was known to be fair and generous. If someone couldn't pay, he would tell them to pay when they could. For those who worked for him, he would always stress that service was the number one priority — "check the oil because we want their car to run smoothly and wash their windows so they can see and be safe." Because of this, he became well respected in the community.
Besides sports, Don had a love of the mountains. He was a member of the Hood River Crag Rats — a mountain climbing search and rescue organization — for more than 50 years.
He was active in all aspects of the organization, even serving as "Big Squeak" for one year. He would help with keeping Cloud Cap, located on the north side of Mount Hood, in good working condition. For many years, he conducted snow surveys – measuring the depth of the snow for the forest service.
His family has many wonderful memories of growing up on the mountain and summers spent at the Crag Rat outings throughout the Northwest. His daughter Debbie climbed Mount Hood with her father, along with Mount Thielson, the Three Sisters and Mount Adams.
Don always talked about how he climbed every mountain in the Northwest except for Mount McKinley — he tried but did not make it. He climbed Mount Hood eight times, and participated in numerous search and rescue attempts.
There were many July Fourths where he and his daughter Judy would climb to the Spur and celebrate the nation's holiday with champagne mimosas and bacon and eggs with the rest of the Crag Rats.
His daughter Betsy remembers the father/daughter outings every March. They would have to hike into Cloud Cap from Cooper Spur Ski Area with seal skins strapped to the bottom of their skis. Then there would be a wonderful weekend spent with the other members and their daughters. Good memories.
Don was also a member of the Hood River Elks. He was Exalted Ruler during the 1970s. He played billiards there for many years and won many trophies. More recently cribbage was his game.
Daughter Judy has wonderful memories of the last year her parents lived in Hood River, going to the Elks Club with her father, and watching him and his friends play cribbage. They were there — young and old — playing their game, talking about their lives, and their futures. It was wonderful to experience.
Don was a man who will be remembered by those who know him as a gentle soul. He truly liked all those he came in contact with. He loved his family unconditionally. Don was loving, kind, generous and honest. He never had an unkind word to say about anyone. He was a loving husband, father and grandfather.
Don fought health issues for the past four years. After cancer surgery in January 2012, he was in and out of hospitals and rehabilitation centers. For the two months leading up to his death, he was trying to get better so that he could come home.
When his family learned that the cancer had returned, they gave him that gift. He came home to his wife and daughters on Sept. 8. Avis, Judy, Betsy and granddaughter Kristina were there every day making sure he was comfortable and telling him how much he was loved. To the end, he never complained and was most appreciative for all they did.
Don is survived by his wife of 62 years, Avis; his daughters Judy Gibson, of Portland, and Betsy Robertson, of Tigard; his granddaughters Kristina Martin, of Troutdale, and Kallie Martin-Guentner, of Gresham, along with his grandsons Mike Robertson, of Portland, and Steve Robertson, of Lake Oswego; and his brothers Merrill and Norman of Odell.
His beautiful daughter Debbie died in 1995. We are comforted to know that they are now together.
Services are planned for 11 a.m. Saturday, Oct. 19, at Anderson's Tribute Center (Funerals, Receptions, Cremations), 1401 Belmont Ave., Hood River, OR 97031; 541-386-1000.
Memorials are encouraged to be made in Don's name to: Crag Rats or Providence Hospice of the Gorge.
Please visit andersonstributecenter.com to leave a note of condolence for family.
Condolences are being received online.