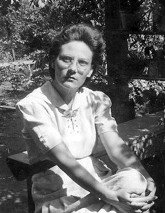 Stella Mae Gage
April 29, 1916 - October 17, 2013
Stella Mae Gage, 97, died Oct. 17, 2013, in The Dalles, Ore. She was born April 29, 1916, in Alpena Pass, Ark., to Henry C. and Dolly Dorothy (Taber) Still. They moved to Taft, Calif., during the Great Depression and later to Oak View, Calif.
Stella and her sisters were all natural artists and she worked for a time at Buzza Cardozo Greeting Cards publisher during the 1950s. One of her artistic hobbies was painting and firing flowers on ceramic dishes, saucers, and cups; a skill set learned while working in Carpinteria, Calif., for a local manufacturer there.
Neighborhood friends all looked to Stella as the "go-to-gal" to seek advice, and she always had advice to share with those who listened. When she was young, neighborhood ladies loved to call one another and gather together in come-as-you-are coffee klatches. Many embarrassing snapshots using handy "Kodak Brownie Cameras" still grace photo albums, even today.
Stella always worked hard and was a gracious hostess who felt guilty if she wasn't working on some project or making dinner for someone.
She is survived by her son, Frank, and his wife, Joann, of Hood River, Ore. Also surviving is the Methvin family: Tony and Stacey and their children, Dennis, Sarah and Kameron. When she was home from college on weekends, Sarah was Stella's caregiver and they spent many enjoyable hours together doing all kinds of things.
The family would also like to thank the administrators, staff, nurses, and many caregivers at The Dalles Health and Rehabilitation Center, who lovingly looked after Stella with much care and concern for her well-being. They truly went above and beyond what would normally be expected!
Stella was preceded in death by her mother and father, her husband, and three sisters.

Condolences are being received online.