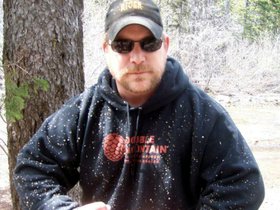 DeWayne "Doug" Douglas Smith
May 7, 1980 - September 6, 2013
DeWayne D. "Doug" Smith was born a U.S. citizen at a military hospital in Nürnberg, Germany, May 7, 1980, coming to the United States as a small child. He resided and went to primary schools and Faith Christian Academy in El Paso, Texas, achieving recognition for his outstanding football and weight-lifting abilities while enrolled in those schools, completing his education and enlisting in the U.S. Marine Corps in Jackson, Mich.
He was a true patriot and he proudly served his country as a Marine in the war on terrorism in Iraq and completed two tours in Afghanistan. He received an honorable discharge from the military service in 2004.
His love of building things with his hands, wood working, nature and the unending love of his children brought him into the employment field of construction, where he worked while going to school and received his degree in alternative energy technologies and finally became a construction supervisor.
In his words, his belief of, "coming from a family of law enforcement I feel I have an excellent grasp of the law enforcement code of ethics, and aim to maintain that code. I believe in fulfilling my hourly obligation to my employer by giving a 100-percent effort. I am a self-starter and require minimal instruction and guidance." This is how he lived and played.
He was an amazing son, a great brother, an extraordinary loving father, a true and loyal husband, friend and confidante. As he walked through his time on this earth he touched a lot of lives, taking little pieces of them with him in his heart and leaving pieces of himself behind. His heart was a big as he was and he was truly loved by all who knew him.
He took the hand of Jesus and was led to his heavenly home on Sept. 6, 2013, in an accident in Sandy, Ore., doing what he loved.
He is survived by four minor children, Jeremy Ramos Smith, 16, Seth M. Smith, 13, Kaitlyn N. Smith, 12, and Olivia H. Settje-Smith, 4; his wife, Hannah Settje, and her children, Maggie, Joey and Mikey Hall, of Hood River, Ore. He is also survived by his parents, David and Debbra Brokaw, of Scio Ore.; three brothers, Thom and Patsy Brokaw of Cloudcroft, N.M., David and Vicki Brokaw, of Conroe, Texas, and Thomas and Kristin Brokaw, of Salem, Ore.; two sisters, Crystal Jankowski, of Jackson, Mich., and Christine Brokaw, of Indianapolis Ind.; his biological father, Melvin Smith, of Jackson, Mich.; his grandmother, Dorothy Love, of Lebanon, Ore.; numerous nieces and nephews and several aunts and uncles.
He is preceded in death by three grandfathers, two grandmothers, two aunts and recently a great uncle.
A viewing is scheduled for Friday, Sept. 13, from 8-9 a.m. at Hillside Chapel, 1306 Seventh St., Oregon City, OR 97045; 503-656-4285. Graveside services with full military honors will take place at Willamette National Cemetery, 1800 S.E. Mt. Scott Blvd., Portland, OR 97086, with a church service and reception to follow at a location to be determined.
In lieu of flowers, the family requests that donations be made to a fund to benefit Doug's children, in care of Scio Christian Church (38955 N.W. Second Ave., Scio, OR 97374) or U.S. Bank; make sure donations are clearly marked with his name.

Condolences are being received online.