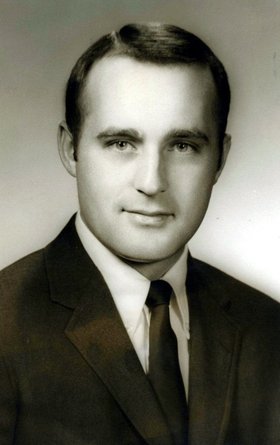 Franklyn "Frank" Nelson Brown
July 19, 1942 - September 5, 2013
Franklyn Nelson Brown died on Sept. 5, 2013, in Parkdale, Ore. He was born July 19, 1942, in Portland, Ore., to Ida "Pauline" Brown, a first-generation Swedish immigrant, and Frank E. Brown, a Portland School District principal.
Frank was raised in Southeast Portland with his two younger brothers, Allyn and Rollyn, and attended Atkinson Middle School followed by Franklin High School. Throughout middle school and high school, Frank was an active student and athlete, playing basketball, baseball and football throughout.
After high school, Frank attended Oregon State University where he studied industrial engineering and pledged the Alpha Tau Omega fraternity. He graduated as both the president of his fraternity and a Beaver fan for life. It was at Oregon State that Frank met his future wife, Janie Wittkopf.
After graduating from OSU, Frank and Janie were married in 1966 and Frank attended law school at Willamette University. After receiving his law degree in 1969, they moved to Tigard, Ore., and Frank started his own private law practice. In 1970 they welcomed their first child, Anders Michael, followed by Stephanie Kristine in 1973.
In 1974 they moved to Bull Mountain in Tigard, where Frank played an active role in the community for the next two decades, including basketball and baseball coach, scout leader, civic leader and more. Along the way he was a lifelong teacher to Anders and Stephanie, sharing his wisdom and experience both in their youth but also as adults with their own growing families.
After attending the marriages of both children in 1995, Frank welcomed four grandchildren from 1999 to 2003: Aedan and Cecelia (Anders) and Wade and Anna (Stephanie).
As he grew older, Frank had an unbridled love of learning, and his interests varied across aviation, construction art, music, boating, history and religion, among other things.
One of his first loves was airplanes: He received not only his private pilot license, but also his commercial license and was a certified pilot trainer. Additionally, he wrote a book about instrument flying and owned a number of airplanes throughout life.
He loved and was fascinated by all types of music, and in his living room you could find a banjo, cello, guitar and clarinet.
Frank was full of wisdom and will be greatly missed by all who were fortunate enough to know him throughout his life.
Franklyn is survived by son Anders Brown, of Seattle, Wash., and daughter Stephanie Pickering, of Parkdale, Ore., and grandchildren Aedan Brown, Cecelia Brown, Wade Pickering and Anna Pickering.
Services for Franklyn Brown will be held on Monday, Sept. 16, at 11 a.m. in Lincoln Memorial Funeral Home, 11801 S.E. Mt. Scott Blvd., Portland, followed by a reception.
In lieu of flowers, contributions may be sent to Oregon State University Foundation.
Please visit Frank's memorial at www.koin.mem.com.

Condolences are being received online.