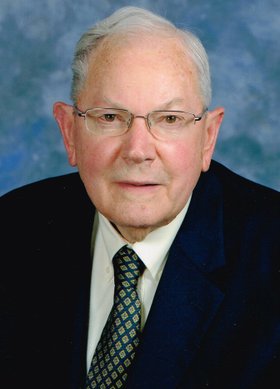 Leland "Lee" C. Dickson
October 6, 1924 - April 1, 2014
Leland "Lee" C. Dickson, 89, a longtime resident of The Dalles, Ore., died April 1, 2014, at a local hospital. Lee was born Oct. 6, 1924, in The Dalles, the only child of Charles Wilbur and Hattie Gertrude (Coons) Dickson. He was raised and educated in The Dalles, graduating from The Dalles High School in 1942.
Following high school he was employed with Western Electric for one year and then served in the U.S. Navy in the Pacific theater from 1943 until 1946. Upon discharge from the Navy he returned to the telephone industry where he worked for 41 years, retiring in 1986.
Lee had been a member of the St. Mary's School Board for two years and served as board president one year, was a member of the St. Peter's Building Committee, was co-chairman of the first two Super Auctions and was a volunteer with Meals on Wheels and Mid-Columbia Medical Center Lifeline Program.
He was a member of the Knights of Columbus, the American Legion and had served as a Eucharistic Minister at St. Peter Catholic Church for 26 years. He enjoyed traveling, photography, growing roses and visiting family.
Lee was preceded in death by his wife, Jean, and infant son Mark.
He is survived by four children: son John Dickson and his wife, Tami, of Portland, Ore., and daughters Jane DeClue and her husband, Elmer, of La Grande, Ore., Marilyn Stanley and her husband, John, of Hood River, Ore., and Laurie Mazarella and her husband, Mark, of Boiling Springs, Pa.; six grandchildren and eight great-grandchildren.
Visitation will be Sunday, April 6, from 3-5 p.m. at Spencer, Libby and Powell Funeral Home.
Rosary will be Monday, April 7, at 10:30 a.m. followed by Mass of Christian Burial at 11 a.m. at St. Peter Catholic Church. Interment with Military Honors will follow at St. Peter Catholic Cemetery.
Memorial contributions may be made to St. Mary's Academy, 1112 Cherry Heights Road, The Dalles, OR 97058.