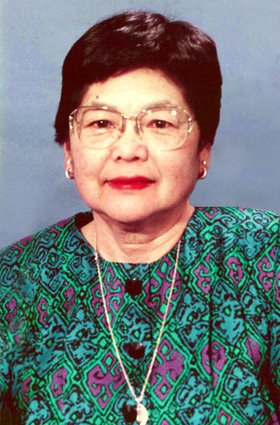 Akiko "Aki" Imai Nakamura
October 8, 1934 - April 7, 2014
Akiko (Aki) Imai Nakamura, 79, passed away Monday, April 7, 2014, at Providence Brookside Manor in Hood River, Ore. Aki was born Oct. 8, 1934, in Hood River to Tomoyoshi and Kotono (Moriyasu) Imai. She grew up at the Imai family orchard in Dee.
Her education and family life were interrupted during the second World War when she and her family were sent to the Pinedale Assembly Center, then to Tule Lake and finally to the Minidoka internment camp in 1943. Her family returned to the Dee homestead in 1945.
Aki graduated from Hood River High School in 1952. She moved to Portland for clerical school, and then landed a job in a doctor's office.
Aki started dating Cliff Nakamura in 1954 and they were married in Hood River at the Asbury Methodist Church on March 12, 1955. Cliff and Aki raised their children on the family farm on Willow Flat Road growing pears, apples, and some of the first cherries in the area. She participated in VFW activities including the annual poppy drive and many of the local JACL picnics and holiday functions.
Aki enjoyed quilting, sewing, bowling, golfing, traveling, and doting on her grandkids. For many years she attended the Odell Methodist Church. When her kids were growing up she was a 4-H leader in sewing and assisted her daughters with many baking and sewing projects.
She loved her family outings to the coast to dig razor clams, trips to the local forests to hunt matsutake (mushrooms) and road trips to hit the casinos.
She enjoyed bowling with her local team and attended many national tournaments. She took up golfing in her later years, and she and Cliff took golf vacations with family and friends, to many places including Hawaii and California. They also traveled to Europe, Japan, Australia and New Zealand.
Aki is survived and will be dearly missed by Cliff, her husband of 59 years; her daughter Cynthia and son-in-law Carl Asai; son Brian and daughter-in-law Marla Mittan; and grandchildren Jennifer and Stephen Asai and Rachel and Anna Schlosser.
She is also survived by her brothers, Shige, George and Tets, and numerous nephews and nieces.
She was preceded in death by her parents; sister Molly; brothers Hit and Shiro; and daughters Arlene (married to Vinnie Schlosser) and Christy.
Services are planned for 2 p.m. Saturday, April 19, at Anderson's Tribute Center, 1401 Belmont Ave., with visitation the preceding day on Friday, April 18, between 10 a.m. to 5 p.m.
The service will be followed by the burial at Idlewilde Cemetery, 980 Tucker Road, Hood River, and a reception at China Gorge Restaurant, 2680 Old Columbia River Drive, Hood River.
Memorials may be made in Aki's name to Hospice of the Gorge or the American Cancer Society.
Arrangements are under the direction of Anderson's Tribute Center (Funerals, Receptions, Cremations), 1401 Belmont Ave., Hood River, OR 97031; 541-386-1000. Please visit andersonstributecenter.com to leave a note of condolence for the family.

Condolences are being received online.