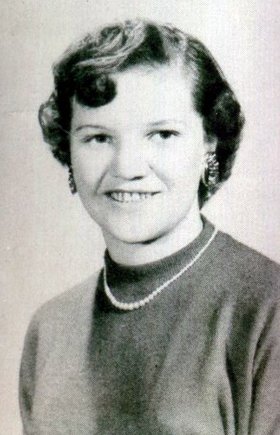 Sharon Lee Lunyou
April 26, 1939 - April 5, 2014
Sharon Lee Lunyou passed away peacefully on April 5, 2014, surrounded by family. Sharon Lee Hale was born in Fossil, Ore., on April 26, 1939, to Lucille and Walter Hale. She grew up in Mitchell, Ore., raised by her beloved grandparents, Eunice and Charles Maxwell.
Many of Sharon's fondest memories were of her time in Mitchell, playing volleyball, softball, cheerleading and going to dances all over Wheeler County — Sharon loved to dance. This is also where Sharon picked up her lifelong nickname, "Pickles," while working at the Sidewalk Cafe. Mitchell was always home to Sharon.
In 1957 Sharon graduated from Mitchell High School, and joined the U.S. Air Force, where she met Robert Lunyou. On March 23, 1959, they were married, and recently celebrated 55 years of marriage.
In 1959, Sharon became a mother for the first time to Kristi Jo, and again in 1961 to Bobby Don. Motherhood was one of Sharon's most proudest chapters. She enjoyed every aspect of being a mother; her children were her world. She was always attentive, never missing a sporting event or activity her children were involved in, and she always made the holidays magical. She was her children's most favorite person in the world!
Being an Air Force family, they traveled a lot, living in Kansas, Michigan, California, and even Okinawa, Japan, making many dear friends and memories along the way. In 1972, the family settled in the Bonneville/Cascade Locks area.
Sharon went to college and earned her degree in Special Education. Learning and improving one's self was always important to Sharon, as she always encouraged her family to strive for more. Just being in Sharon's presence made you want to be better.
In 1980, Sharon beat breast cancer, and was a 34-year survivor. She was an example to all as she faced a very scary battle with strength, grace and courage; that was Sharon's way. She was always more concerned about others than herself.
Sharon volunteered and worked for the Cascade Locks School for years, guiding and teaching many children. She loved working with kids, often being called "Mom," or "Grandma," by many in town. She enjoyed attending the school sporting events, and cheering on the children. She loved them all.
Sharon enjoyed volunteer work, and was an example to her family on the value of giving back, paying it forward, and helping those in need.
In 1991 Sharon went to work for the Postal Service, working in multiple offices throughout the Gorge, including Stevenson, Wash., and Cascade Locks, Ore. She loved the interaction with her co-workers and customers and made many good friends. She retired in 2006.
Another role Sharon was destined to play was that of Grandma. She was the most devoted grandmother a child could ask for. She was a huge influence in who her grandchildren turned out be; she meant more to them than anyone could possibly imagine. She was their hero, she was home.
Some of Sharon's hobbies included cooking, canning, computers, puzzles, and reading. Her favorite pastime was genealogy. She spent years researching her family history; a priceless gift she wanted to pass down to her family.
Her legacy lives on inside her family: She is survived by her husband, Robert Lunyou; her children, Kristi Dennis (Carl) and Robert Lunyou (Kim); grandchildren Natasha Nolin (Ken), Ryan Nolin (Heather), Toney Hussey (Joe), Michael Lunyou (Danielle), and Kelli and Michael Haskins; great-grandchildren Marley, Rogue and Qwynn; brothers Bob Hale (Beverly) and Jimmy Parish (T); sister Verlie Philips (Frank); aunts, nieces, nephews, cousins and the many lives she touched with her huge, beautiful heart.
Sharon was welcomed into Heaven by her grandparents, Eunice and Charles, her mother, Lucille, her baby sister, Marjie/"Buddy," her favorite uncles Charles and Jim, and her Brittany Springer, Josan.
Sharon was a one of a kind, a pure, beautiful soul; the best. She will always have a special place in our hearts. Love you forever!
A Celebration of Life will be held in Mitchell, Ore., on June 21, 11 a.m., at the Baptist Church. To send condolences or to sign the online guest book visit straubsfuneralhome.com.

Condolences are being received online.