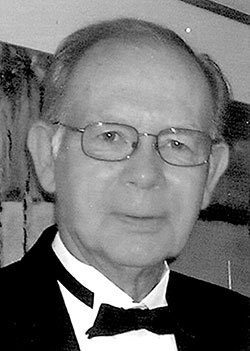 James "Jim" Allen Dunn
August 5, 1936 - April 19, 2014
James Allen Dunn, 77, passed away April 19, 2014, at his home in The Dalles, Ore., with loving family by his side.
At his request no service will be held. Born Aug. 5, 1936, in Hood River, Ore., he is predeceased by his parents, Francis (Angus) Dunn and Ernest A. Dunn, as well as his sister Beverly (Shaw) Houser, and his brother Richard Dunn.
On June 7, 1959, he married the love of his life, Alyce Becker. They lived in The Dalles for 10 years and Hood River for 25 years, moving back to The Dalles on July 4, 1994.
Jim built two houses in Hood River and remodeled two places in The Dalles through their 55 years of marriage. He also had a love of bowling, golfing and cars. In his retirement he played in many Golf Pro-Am Tournaments, which was what he loved to do best. He enjoyed the camaraderie of his golf buddies.
Jim is survived by his wife, Alyce; his daughters, Jeanette Walton and Jolene Randall, and son, Jay Dunn; sister, Janice Deville; son-in-law, Doug Walton and daughter-in-law, Tricia (Walker) Dunn; six grandsons, Zachary Walton, Nathan Walton, Matthew Walton, Rodney Randall, James Randall and Ryan Dunn, a granddaughter, Niki Dunn, and a great-granddaughter, Alaina Randall.