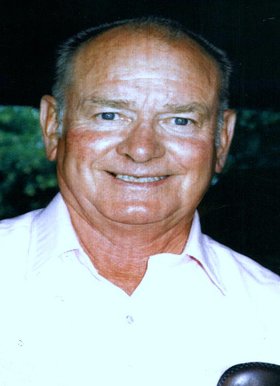 Donald "Dick" Lee Goe
July 7, 1925 - April 24, 2014
Donald "Dick" Lee Goe passed away in the arms of his loving wife of 65 years on April 24, 2014. He was the youngest born to the late John and Eva (Alger) Goe on July 7, 1925, in Hood River, Ore.
Dick was raised on the family orchard with his four siblings and graduated from Odell High School in 1943. He joined the Navy and served until the end of World War II. After the service he joined his brothers to run the family orchard until 1968. The brothers separated their properties and farmed independently until Dick retired in 1990.
Many people benefited from his generous gifts of Tokyo Rose apples, peaches, cherries and nectarines that he personally raised to his satisfaction.
He met the love of his life, Sadie, in the summer of 1948. They married Dec. 5, 1948. Together they raised four children and were blessed with nine grandchildren and 11 great-grandchildren.
He enjoyed cat fishing, hunting, and camping with his many friends and family. Summer weather brought on weekly horseshoe gatherings at the family home.
Dick and Helen purchased a beach house in 1977. They spent many happy times with their retired beach buddies sharing life's pleasures.
He was a lifetime member of the American Legion and The Hood River Elks Club. He was most content sharing his love and great wit, at home, with his family.
He is survived and will be greatly missed by his wife of 65 years, Helen "Sadie" (Walkin) Goe; sister, Frances (Goe) Arnold; brother-in-law, Edward Allen; sons Richard (Susan) Goe, Thomas Goe and Gary (Kathy) Goe; daughter Lynn (Rick) Sherrell; grandchildren Audi (Ryan) Samsel, Trista (Ryan) Beam, Cassy (Heath) Stintzi, Dustin (Tara) Goe, Kimberly (Mike) Goe, Kary (Sara) Sherrell, Donnie (Jen) Goe, Ryan (Brittany) Goe and Colby Goe; great-grandchildren Andrew Samsel, Hunter Samsel, Tyrone Stintzi, Toby Stintzi, Trevon Beam, Rylyn Beam, Kainoa Alayon, Alexander Goe, Nash Samsel, Brodie Goe-Alayon and Adelynn Goe; his loyal shadow: his dog, Sara, and two cats, Cindy and Baby.
He was preceded in death by his parents; brother and sister-in-law Merle and Wilda (Hill), brother Joseph; sister Bertha Allen; the family donkey, Smokey; his trained magpie, Simon, and crow, Herman, and his numerous black labs and stray cats.
Services to honor Dick's life and mourn his passing are planned for 11 a.m. Saturday, May 3, at Anderson's Tribute Center. Viewing is scheduled throughout the day of Friday, May 2, Anderson's with a special evening gathering from 5-7 p.m. with refreshments and hors d'oeuvres and a chance to greet with family, watch Dick's video tribute and share memories.
Memorials are encouraged to be made in memory of Dick to either the Pine Grove Fire Department, Hospice of the Gorge or Hearts of Gold Caregivers.
Arrangements are under the direction of Anderson's Tribute Center (Funerals, Receptions, Cremations), 1401 Belmont Ave., Hood River, OR 97031; 541-386-1000. Please visit andersonstributecenter.com to leave a note of condolence for family.

Condolences are being received online.