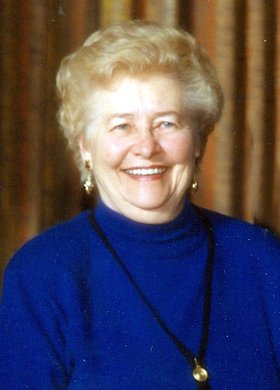 Frances Yordy Benton
January 9, 1923 - August 3, 2014
Frances Yordy Benton, 91, passed away Sunday, Aug. 3, 2014, surrounded by her loving family.
Services to celebrate Frances' life are planned for 2 p.m. Thursday, Aug. 14, at Anderson's Tribute Center, 1401 Belmont Ave., Hood River, OR 97031.
Frances Louise Yordy was born right around midnight at her parent's home in Salina, Kansas, on Jan. 9, 1923, to Edwin Andrews Yordy and Belva Lockwood Kring Yordy. Dr. Harvey, the attending physician, was not quite sure if it was the 8th or the 9th, so he said it was the 9th, and Frances loved to tell people later that her birthday was 1-9-23 -- the same as the numbers in her birth year!
Frances was a sharp little girl and learned to read and write early so started kindergarten at the age of 4. At age 6, the Yordy family traveled from Kansas west, caravan style, through the Columbia River Gorge on the way to the Pacific Ocean, a first time to the beach for them all. In the Gorge, they stopped at Crown Point to enjoy the view. Little did Frances know that when she grew up, she would enjoy the Gorge frequently!
When she was about 11, her uncle Charles Andrews bought Frances a retired circus horse named Chief that her parents kept at their 160-acre "Hill Farm" located about 10 miles out of town. The land was mostly pasture but had a 3-acre lake on it and a couple of cabins. Frances would ride Chief back and forth from her home in town to the farm all by herself without any problems at all. Chief was trained to kneel when tapped on his knee so that she could mount him, and if she patted his rump, he would lay down so that she could dismount; handy, since she had to go through a barbed wire gate to get to the pasture.
During her high school years, she and her friends and family had many happy days at the farm. Frances learned to be an excellent shot with a rifle shooting at turtles' heads (about the size of your thumb) as they popped up out of the water. The turtles ate the duck eggs and so would not be allowed to overpopulate!
Frances attended Salina High School and graduated in 1940 at the age of 17.
A talented actress in high school, she moved to Los Angeles, Calif., in pursuit of a dramatics degree at USC. While at USC, Frances was initiated into the Theta sorority. When World War II broke out, she suspended her college career and took a job with the Fluor Corporation as a personal secretary, making use of the shorthand skills she learned in high school. It was her boss who highly discouraged Frances from becoming an actress, as he felt it was a sure road to ruin (how true!) for a sweet and innocent young woman and he did not want any harm to come to her from some of the nefarious Hollywood types with whom he was acquainted
During her stay in LA, Frances met Charles "Chuck" Benton, an engineer at Alcoa Aluminum Company, who was a co-worker and friend of her brother, Wayne. On Oct. 23, 1942, they were married in Hollywood at the home of Chuck's aunt, Emily Benton Frith, a documentary film producer.
The newlyweds planned to reside in Hollywood and indeed had their first son, Terry, there. However, Chuck's father, King Benton, asked for his son's help on his fruit ranch in Hood River, Ore. In 1945, the family of three moved to Hood River and there they began new lives and a career in the fruit farming industry.
In Hood River, Frances and Chuck added John, Paul, Steve, and Cathy to their family. In 1956 with help from building contractor and longtime Hood River resident Jack Baldwin, Frances and Chuck starting building what would become their final home and upon completion in 1960 they moved in. It was to become a wonderful place to gather to play bridge, dance, or party with the couple's numerous friends.
Although raised in the town of Salina, Frances considered herself as having farm roots. Living through the Depression, Frances knew how to be frugal and thrifty. She sewed all of her children's' clothing including dress shirts, pants and coats for the boys and Cathy's darling little dresses. Each year, Frances grew an abundant garden and canned, froze and dried many quarts of vegetables and fruit from the orchard. She was an accomplished cook and baker and spoiled her family with her wonderful meals.
Frances may have been a stay-at-home mom, but there was nothing stay-at-home about her. When the children were very small, she hired Frances Cody to help her care for them. She worked beside Chuck in the field picking and packing peaches, cherries, pears and apples, and she did most of the bookwork and all of the payroll for the ranch, then was home at night cooking an amazing meal for her famished husband and kids. It was truly a mom-and-pop operation and she loved every minute of it.
Frances loved the hunting and camping trips with family and friends. She was a crack shot (the turtles!) and frequently filled her tag which helped fill the freezer with deer and elk meat with help, of course, from Chuck and the kids. Chuck would often bring home steelhead, salmon, or trout and drop them whole in the kitchen sink and Frances, though often dead-tired at the end of a long day of caring for the ranch and five kids, would dutifully clean and package the fish for later consumption. There may have been an off-color remark or two to Chuck from Frances about this little (big!) job from time to time!
In 1990, Frances and Chuck purchased acreage in Bandon, Ore., and shortly before Chuck passed away on Feb. 27, 2006, Frances finished designing and building their little ocean hideaway. She loved the ocean and beach and recounted earlier times of deep sea fishing, crabbing, and clamming with her family and friends as some of her happiest times.
Frances was indeed part of the greatest generation who considered raising a family to be the most important "job" a woman could have. Yes, she sometimes became a little melancholy when talking about "what could have been" regarding her decision to end her pursuit of an acting career, but she did not believe, as so many do today, that being at home and rearing her children was somehow a waste of her talent. Indeed, Frances felt that being a wife and a mother, the Frances way, was by far the most challenging and fulfilling role she could ever play.
Frances was raised Presbyterian and was a past member of the Riverside Community Church. She and Chuck founded the 100 Club (dance club) in Hood River. Frances was a Rotary Anne, involved with the Hood River County School Lunch Program and Hood River County Elections for many years. Frances was a member of the Hood River Historical Society, member of the Oregon State University Mother's Club for Phi Gamma Delta fraternity and Delta Gamma sorority.
Frances was preceded in death by her father, Edwin Andrews Yordy; her mother, Belva Lockwood Kring Yordy; her brother, Edwin Wayne Yordy; and her brother, Jason Kring Yordy. Also, Douglas Penny, her friend and companion the last five years of her life, brought her much happiness. Doug passed away earlier this summer.
Besides her family, Frances had a handful of close and helpful friends to whom her family will be forever grateful: Yolanda Ledezma, Teri Lee Radliff, and Aaron Bullack. She loved you so! And of course, her dear doctor, Paul Hamada, who cared for her health for many years and helped her make the hardest decisions of her life with dignity and grace.
Frances is survived by her sons, Charles K. Benton III, "Terry," of Hood River, and his fiancée, Connie Roberts, his children Sarah Cushman and her husband Peter, Charles, and Chrissy; John M. Benton of Hood River, his wife Julie and their children Samantha, Amelia and John Michael; Paul S. Benton of Santa Rosa, Calif., his wife Mieke and their children Andrew, Angela, and Christopher; Steve Benton of Hood River, his wife Mary Sue and their children Bob, Amanda Kaats and her husband Dustin, Susie Gibson and her husband Brien; and daughter Catherine Hamada of Hood River, her husband Paul and their children Anna Allen and her husband Riley, and Stephen Thompson; along with four of the sweetest great-grandchildren on the planet, and numerous nieces and nephews.
Memorials are encouraged to be made to the Hood River Rotary Foundation in Frances's name.
Arrangements are under the direction of Anderson's Tribute Center (Funerals, Receptions, Cremations), 1401 Belmont Ave., Hood River, OR 97031; 541-386-1000. Please visit andersonstributecenter.com to leave a note of condolence for family.

Condolences are being received online.