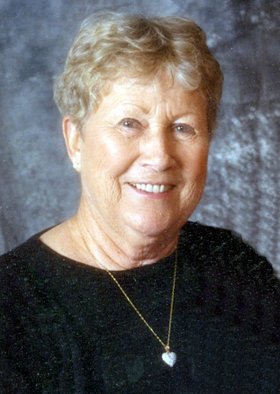 Marilyn Rose Monahan
March 20, 1936 - August 2, 2014
Marilyn Rose Monahan passed away peacefully at her home in Hood River, Ore., on Saturday, Aug. 2, 2014, at the age of 78.
The daughter of a Scotsman and an Englishwoman, Marilyn was born on March 20, 1936, to James Ashforth and Dora Brooks Ashforth in Santa Monica, Calif. Marilyn was raised in Santa Monica and enjoyed her time as a cheerleader for Santa Monica High School (SAMOHS) and spending time at Sunset Stables in the Hollywood Hills riding horses. It was at the stables where she met the love of her life, Everett, and they married on Feb. 26, 1955. Everett and Marilyn made their first home in Southern California and began raising their children.
In 1970 Marilyn and Everett made an adventurous decision and moved their family to Hood River, Ore. It is here that they began E.D. Monahan Construction and Marilyn held various jobs that included working at Murray's Furniture before retiring.
Marilyn's home was the gathering place of family and friends and she especially enjoyed doting on her grandchildren. Marilyn was a member for many years of a women's tennis league and was known as a competitive player in the game she was so passionate about. Other interests include her love and caring of her animals and feeding the many wild birds that would come into her yard. Marilyn loved to read and go on an annual camping trip with her family and friends. A member of the Elks, she enjoyed meeting her friends for lunch on Thursdays.
Marilyn is survived by her husband of 59 years, Everett Monahan; son, Mike (Pattie) Monahan, of Parkdale, Ore.; daughter, Carol (Phil) Metcalfe; daughter-in-law, Pam (Steve) Monahan; sister, Phyllis Roeher-Wetton of Temple City, Calif.; and grandchildren Kayla Monahan Bohince, Scott Monahan, Jason Monahan, Travis Monahan, Daniel Metcalfe and Amy Metcalfe.
Marilyn was preceded in death by her son Steve Monahan; twin brother, Tom Ashforth, and her parents, James and Dora Ashforth.
Services are planned for 1 p.m. Monday, Aug. 11, at Anderson's Tribute Center. Friends are invited to join family for an afternoon viewing on Saturday, Aug. 9, from 2:30-4:30 p.m. at Anderson's Tribute Center. Private interment will be at the Pine Grove Butte Cemetery.
Arrangements are under the direction of Anderson's Tribute Center (Funerals • Receptions • Cremations), 1401 Belmont Ave., Hood River, OR 97031; 541-386-1000. Please visit andersonstributecenter.com to leave a note of condolence for family.

Condolences are being received online.