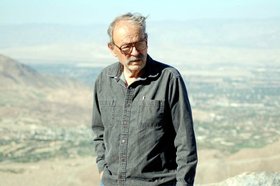 Ruben Duran
September 30, 1924 - August 10, 2014
Ruben Duran, 89, passed away peacefully on Sunday, Aug. 10, 2014, at Providence Brookside Manor, Hood River, Ore., after a long and valiant battle with Alzheimer's disease.
Ruben was born Sept. 30, 1924, in Los Angeles, Calif., to Henry L. and Catherine E. Gutierrez, the fourth of seven siblings. He is survived by his six siblings, six children, eight grandchildren, three great-grandchildren, and numerous nieces, nephews and cousins.
Attending Los Angeles public schools during the Great Depression, he expressed an early love of reading and music, and he began playing alto saxophone at an early age. He also played the clarinet and loved the piano, his favorite pieces to play being "Claire de Lune," and "The Minute Waltz." In the 1960s he found a little time to play his horn around the Inland Empire (Pullman) with a band known as "The Snake River Six," though this career was short-lived.
Ruben entered the U. S. Navy in December 1942 and was discharged in December 1948. During World War II he served on minesweepers and studied diesel mechanics and refrigeration. He married Rita J. Gonzales of Montebello, Calif., in 1943 at St. Benedict's Monastery, Montebello. Rita and Ruben enjoyed 67 years together until Rita's death in 2010.
Ruben served six years in the Navy. With his wife and two young daughters (Rebecca and Alicia) to support during the 1940s and 1950s, he enrolled in college under the G.I. Bill. He graduated with honors from California State Polytechnic College in June 1954, receiving a Bachelor of Science in Agriculture, and was immediately accepted at Washington State University, Pullman, in an assistantship. The family that year moved to Pullman, and he received his Ph.D. in plant pathology in 1958. Upon his retirement, he had dedicated 27 years of service to Washington State University. He was honored as Professor Emeritus in 1989 for his contributions in the field of mycology.
Rita and Ruben built a home in the Palouse country in the 1960s and became well known by their neighbors during their time at "Ewartsville," a wheat farming enclave outside of Pullman. His children Dennis, Celinda, Therese and Katy were born in the 1950s and 1960s in Pullman.
On retirement from WSU in 1989, he and Rita returned to southern California to be nearer their siblings. They had the good fortune of finding a vintage home in Hemet, Calif., where Ruben tended nearly an acre of beautiful gardens for the next 18 years. He will be remembered for his stewardship. In his retirement he continued to enjoy the study of Latin, watching old boxing matches, and microscopy.
In 2010, declining health forced a move for Ruben and Rita to be nearer their children, and Hood River, Ore., was chosen for its excellent care facilities and beautiful surroundings. During his time at Brookside Manor, he made many friends who got to know a little about his wry sense of humor, his dogged determination, and his kind and gentle ways.
He is survived by his children, Rebecca R. (Jay) Thomas, Seattle; Alicia K. (Joel) Simpson, Spokane; Celinda Duran (Sinclair) Kinsey, Hood River; R. Dennis Duran, Seattle; Therese J. Ruddy (Ryan), Las Vegas; and Katy Duran (Richard Jonker) of The Hague, the Netherlands. He is survived by seven grandchildren and three great-grandchildren.
He is also survived by his siblings, Sally (Elmer) Sisk, Oklahoma; Henry Duran, Warner Springs, Calif.; Juliet Gray, Connecticut; Dora Maldonado, San Dimas, Calif.; Ralph Duran, Apple Valley, Calif.; and Toni (Lonnie) Betts, Ontario, Calif.
Interment was held at St. Mary's Cemetery in Hood River, Ore.
Arrangements are under the direction of Anderson's Tribute Center (Funerals, Receptions, Cremations), 1401 Belmont Ave., Hood River, OR 97031; 541-386-1000. Please visit andersonstributecenter.com to leave a note of condolence for family.
When I come to the
end of my journey
And I travel my
last weary mile
Just forget, if you can,
that I ever frowned
And remember only
the smile.
Forget unkind words
I have spoken;
Remember some good
I have done.
Forget that I ever had heartache
And remember I've had
loads of fun.
Forget that I've stumbled and blundered
And sometimes fell
by the way.
Remember I have fought some hard battles
And won, ere the close
of the day.
Then forget to grieve
for my going,
I would not have you
sad for a day,
But in summer just
gather some flowers
And remember the place where I lay,
And come in the
shade of evening
When the sun paints
the sky in the west,
Stand for a few moments
beside me
And remember only my best.

Condolences are being received online.