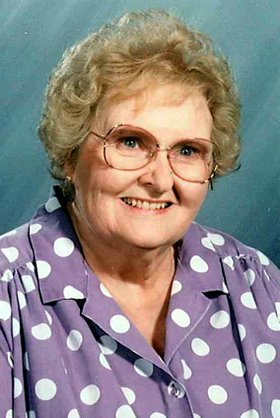 Betty Jean Bullack
November 7, 1935 - August 13, 2014
Betty Jean Bullack, 78, of Hood River, Ore., passed away Aug. 13, 2014. Betty Jean Lyons was born Nov. 7, 1935, at Harlowton, Mont., to George Robert Lyons of Twodot, Mont., and Corral Pauline Elliot Lyons, of Ringling, Mont. She attended school in a two-room schoolhouse in Twodot through the eighth grade. Then she went to Harlowton High School, graduating in 1953.
College sweethearts Betty Jean Lyons and Clair Eugene Hallock were married during their Montana State college years, in Missoula, Mont., on Dec. 19, 1954. They began married life in Montana and Wyoming.
Betty and Clair moved to Oregon with their young family in the early 1960s, to fulfill opportunities to teach and attend college. Clair began teaching in the Willamette Valley while Betty attended the University of Oregon. Betty earned her Bachelor of Music from the University of Oregon, School of Music in 1967. Both Betty and Clair accepted music teaching positions on the Oregon coast in Bandon and Coquille. Betty directed the choir at Emmanuel Episcopal Church in Coos Bay.
Their daughters Linda, Julie and Laura along with Clair sang in the choir. Their daughters learned to play the piano, saxophone, clarinet and flute. Said one of the daughters, "We grew up in such a musical household, we thought everyone had family gatherings where everyone played and sang. Of course we were always in band and choir. We knew our household was special. Not everyone's parents played for the dances." Clair and Betty had beautiful voices. Clair passed away Sept. 14, 1971.
Betty met William Arthur Bullack and they were married in 1972. She taught music in the Coos Bay School District for many years. For family reasons, they returned to William's childhood community of Hood River in 1980.
At that time Betty began teaching at Mill A School. Proud parents, adoring grandparents, and excited students loved Betty's musical extravaganzas including school performances and recitals for the community. Betty also helped to provide local performers with an opportunity to show their individual and group accomplishments. When Betty was selected as the Skamania County's Educator of the Month, she was interviewed for the newspaper. Of musicians she said, "Those who can't teach, perform." Betty loved to teach. She retired from teaching music in the public schools, but remained active as a private teacher.
While Betty made performing seem effortless, she too knew the importance of personal practice. Her friends at Dethman Manor remember how her beautiful piano filled the air. One friend commented that playing the piano made Betty happy, but it made everyone who heard her happy as well. Friends remember her impromptu sing-alongs in the Social Room. No holiday season at Dethman Manor was complete without a musical get together and a recital of her students.
Betty taught private instrumental and voice lessons for over 50 years. After school, afternoons and evenings were always filled with the sound of students working to learn and demonstrate practiced abilities on their instruments or with their voices. She loved watching children finally make music with an instrument after struggling along. "The look on their faces when they finally get it is just wonderful." Teaching was a joy, pleasure, and passion for Betty as she worked with students from the youngest to senior citizens.
In both Coos Bay and in Hood River, there was choir practice during the week. On Sundays you would find her playing the organ or directing the choir for her community's Episcopal Church. Betty and Bill attended St. Mark's Episcopal Church in Hood River for several years. Bill passed away June 22, 1997.
Betty is survived by her brother Jim Lyons and his wife, Jan; her daughters: Linda Gilcrist and husband Tom, Julie Nelson and husband Allen, and Laura Tengwall; her grandchildren: Joshua Stewart and wife Olga, Erin Sekulic and husband Darin, Tina Osterhoff and husband Jeff, Sarah Stathos and husband Trevor, Heather Tengwall, and Michael Tengwall; five great grandchildren: Josiah, Alijah, Micah, Rachael, and Ryker; her wonderful nieces, nephews, and friends. Betty's sunny smile and warm heart will be missed by all.
A celebration of Betty's life will be held Saturday, Aug. 23, 3:30 p.m. at Dethman Manor, Hood River, Ore.