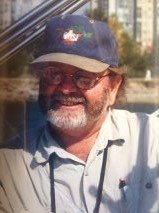 Donald "Mont" Lemont Rouse
December 8, 1944 - August 22, 2014
Donald "Mont" Lemont Rouse, 69, passed away Aug. 22, 2014, at his home in Prineville, Ore. With upcoming family events the celebration of life will be held at River View Cemetery Funeral Home in Portland, Ore. Refreshments will follow.
Mont was born Dec. 8, 1944, in San Jose, Calif., to Donald E. and Shirley (Heaton) Rouse. He attended school in Yuba City, Calif., and graduated in 1962.
In 1972 Mont became interested in bees and then became a commercial beekeeper for 40 years. He was also a beekeeper coordinator for Central Oregon Seed Inc. in Madras, Ore.; during his younger years he worked for Squaw Valley, Calif., ski patrol and did avalanche detonation. He was a fifth-generation orchard farmer.
He had many hobbies and was an avid gardener, skier and sailor. Mont was a member of the Oregon State Beekeeping Association for many years and loved to share beekeeping knowledge with those looking to get into the profession, including his brother. He also obtained his pilot's license with a shared interest in flying with his grandfather and dad. He traveled seasonally every year with his wife and dog "Meeka" throughout the Northwest delivering his honey bees for pollinating fruit orchards and seed crops.
Mont was known for his easy-going personality. He loved talking about bees and enjoyed his home and shop in Prineville, which kept him busy with home improvement projects.
Mont is survived by his wife, Jessica Guardia; brother Gus Rouse; two sisters, Shiela Derr and Jane Modar; and many nieces and nephews. He is also leaving behind his extended family with Jessica, five children and five grandchildren. Mont was loved and respected by everyone who knew him.
Arrangements are under the direction of Juniper Ridge Funeral Home, 678 N. Main St., Prineville, OR 97754; 541-362-5606.