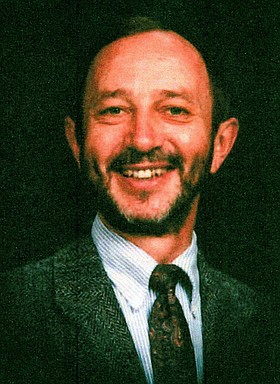 Charles R. Burns
June 8, 1934 - November 27, 2014
Dr. Charles R. Burns left this world on Thanksgiving morning, Nov. 27, 2014, at Mid-Columbia Medical Center in The Dalles, Ore. He was born on June 8, 1934, in Edmonton, Alberta, Canada, to Anne and Charles "Scotty" Burns.
Charles attended Palmer College of Chiropractic in Davenport, Iowa, where he met his wife, Fern, who was teaching school in nearby Bettendorf. They were married Oct. 3, 1959, in Washington, Iowa, and moved to Edmonton to begin his practice as a chiropractor. They were actively involved in their church, Westwood Baptist, and were fortunate to assist in starting a mission church in the suburb of Jasper Place.
Daughters Brenda and Stacey were born in Edmonton, then they moved just south to the small town of Leduc, where son Scott was born. Again they were very active in their church, Temple Baptist, where they made many life-long friends. They enjoyed many trips to Banff and Jasper National Parks.
In 1976, the family moved to San Diego, Calif., where Chuck opened his practice in La Mesa, Calif. They became very active in Scott Memorial Baptist church, which later changed its name to Shadow Mountain Community Church, where the children attended the Christian Unified School district. Chuck and Fern made life-long friends here as well, especially in their monthly "Let's Dine Out" group.
Chuck enjoyed his profession of chiropractic, including the study of nutrition; his children and grandchildren; Bible study; reading; going for coffee with friends; Sunday afternoon football; and hitting balls on the golf course. He and Fern loved to travel and enjoyed seeing Canada, much of the United States, parts of Mexico, Hawaii, and China.
Conversation was a joy to him and he could talk about anything from football to quantum mechanics and he was an inspiration to many through his Christian faith, his positive attitude, and his passion for sharing his message of wellness. His last years were selflessly dedicated to being the caretaker for his wife.
He is survived by his wife, Fern; his brother, William; his three children; and his grandchildren: Corban and Danielle Tomlinson, of San Diego, James, Andrew and Patrick Estes, of Hood River, Ore., and Cameron and Caitlin Burns, of Redmond, Ore.
His generous and compassionate presence will be sorely missed.