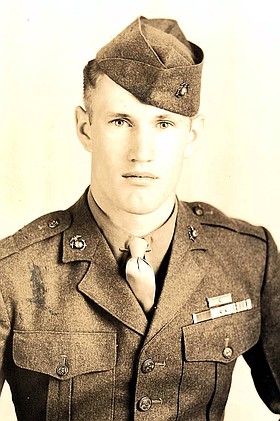 Allan Boyd Lichens
May 27, 1924 - December 7, 2014
Allan Boyd Lichens died Dec. 7, 2014, at his home in Happy Valley, Ore., in the presence of many of his loved ones. Allan was born May 27, 1924, to Walter David Lichens and Mary Boyd Parker Lichens. He was raised on the Lichens Ranch, Klamath River, Calif., and graduated from Yreka High School in 1942.
He enlisted in the U.S. Marine Corps in October 1943 and served in the Pacific theater. Allan was seriously wounded on Iwo Jima and received the Purple Heart. He was honorably discharged in February 1946. He then attended Oregon State University, graduating in 1950 as a fisheries biologist.
He was employed by the Oregon State Game Commission (now ODFW), first in the Southeast Oregon District in Burns as district biologist, then in the Mid-Columbia District, responsible for fish management activities in the Hood River basin and lower 100 miles of the Deschutes River and tributaries. Al retired in 1982. His lengthy career matched his retirement – 32 years each – as was his wish.
Allan married Bonnie Sue Hachtel in 1950 and they moved to Hood River in 1953. They had two daughters, Pamela Dawn and Jennifer Lynn. Bonnie and Allan later divorced.
Al was a longtime member of the Crag Rats. He enjoyed mountain climbing, search and rescue, and family outings for many years around the Northwest, especially Mount Hood and environs. He was a member of Masonic Lodge No. 37, Yreka, Calif.
In 1983 Allan married Ivy L. Sutherland. They made their home in Clackamas County. Al and Ivy spent many winters as snowbirds in Yuma, Ariz., and traveled extensively throughout the U.S. They were also able to attend a Marine Corps reunion on Iwo Jima.
Allan was preceded in death by his parents; brother Robert; and stepdaughter Jodie Talarico.
He is survived by his wife, Ivy; daughters Pamela and Jennifer; stepchildren Tera Isaac, Ted Mullen and Laurie Morrisey; eight dear grandchildren and four great-grandchildren; and beloved puppies Chuckles and Timmy.
Al was known and appreciated for his quiet sense of humor, his honesty, his strength and his devotion to his family, his friends and his rivers.
A memorial service was held at Miramonte Pointe Retirement Community; interment at Willamette National Cemetery will occur on Friday, Dec. 19, at 10:30 a.m.
In lieu of flowers please consider a contribution to a charity of your choice.