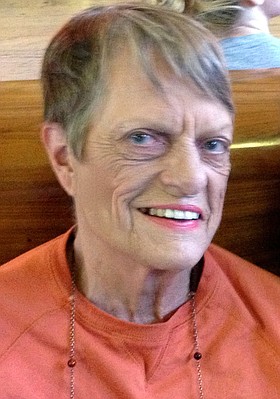 Judith W. Kennedy
April 2, 1939 - December 7, 2014
Judith W. Kennedy was born April 2, 1939, in Erie, Pa., to Lloyd and Lois (Waite) Kennedy. She passed away under hospice care at Brookside Manor on Dec. 7, 2014.
Judy did most of her growing up in Glencoe, Ill., with her brother, Jim. She followed her brother to Stanford, where she graduated in 1961. After graduation she worked as a medical technologist in Palo Alto. In 1963 she married Norman August Hedenberg Jr. and had two children, Erin and Kevin. In 1969 they moved to La Jolla, Calif.
In La Jolla, Judy was a homemaker and later a real estate agent. She loved needlepoint and quilting. She managed her daughter's softball team and was a Girl Scout leader. She loved the sun and the beaches of southern California.
In 1994, she moved to Port Townsend, Wash., where she retired to do more quilting, tennis, hiking, crabbing and pickle ball. She loved to travel and had the opportunity to go to Africa, China, Peru and Mexico. She volunteered with the visitors Center and ECHO, helping the elderly who needed transportation to doctor's appointments.
In 2010, health reason prompted her to move to Hood River and live with her daughter, Erin, and grandchildren, Emily and Andrew. While in Hood River she enjoyed her grandchildren and was a part of the DAR (Daughters of the Revolution). Those who knew her loved her spirit.
She leaves behind her daughter, Erin Thompson, of Hood River, and son, Kevin Hedenberg, of Dallas, Texas; grandchildren Emily and Andrew Thompson, of Hood River; her brother, Jim, of San Rafael, Calif.; nieces Sarah and Polly; and nephew, David. Her family and friends will dearly miss her. Rest in peace!