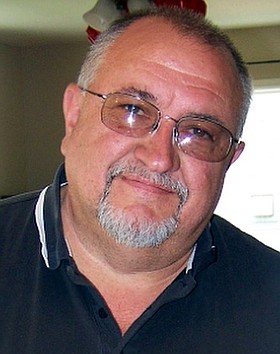 Victor "Michael" L. Hobbs
May 10, 1951 - December 15, 2014
On Dec. 15, 2014, Victor L. Hobbs, also known as Michael Hobbs, was taken to be with our Lord Jesus Christ.
Victor was born on May 10, 1951, in Darrington, Wash., to Dean Hobbs and Donna Mae Green. He spent time as a child in St. Maries, Idaho, and was especially close with his uncle, Mike Telford, whom he considered to be more like a big brother. Vic graduated from Hood River High School in 1969 and lived in Hood River for many years. He then moved to Vancouver, Wash., where he met his wife of 23 years, Ramona Hobbs. He eventually made his home in Redmond, Ore., where he loved the mountains and sunshine.
Vic enjoyed many different journeys in life; carpentry, insurance sales, and Schwan's Food Service were but a few of the paths he followed. He used these experiences to help him build his own successful delivery business in Central Oregon, Countryside Couriers. He took great pride in being able to provide jobs to people he cared about.
Vic loved the serenity of the water, whether he was swimming or boating. He loved to travel to the beach, attend class reunions, and go for long drives. He also really enjoyed the opportunity to get out on the golf course with "the guys." His happiest times were celebrating his grandkids, of whom he was so incredibly proud. Some of Vic's best moments were spent riding his motorcycle side-by-side with his son, Brandon.
Victor is survived by his sister, Carol Daniel; wife, Ramona; and his children: Shannon, Sybil, Brandon, Niki, Trish, Jasen and Patti. Victor's real treasures in this life were his 20 grandchildren. He will be dearly missed by many other family members and friends.
He was preceded in death by his mother, Donna Mae Murray; his sweet sister Teresa; his stepfather, Johnny Murray; and his father, Dean Hobbs.
He was our dad, husband, grandpa, brother, friend … and he was taken from us all too soon. He was cherished in this life and although we are heartbroken, we will find peace in our faith and the knowledge that we will all be reunited one day.