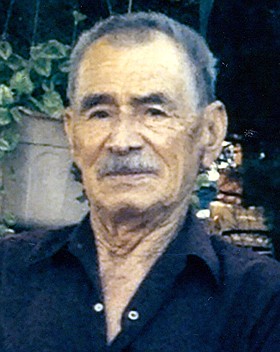 Eladio Angulo Aispuro
February 18, 1936 - December 27, 2014
Eladio Angulo Aispuro, 78, passed away Dec. 27, 2014, at his home in Hood River, Ore. He was born Feb. 18, 1936, in Durango, Mexico, to Manuel Angulo and Maria Del Carmen Aispuro.
Eladio married Rafaela Angulo in Durango, Mexico, on Jan. 17, 1959. Throughout his life in addition to living in Durango, Eladio resided in Sinaloa, Mexico, and Hood River, Ore.
Eladio enjoyed spending time with his family, playing cards and reading.
Eladio is survived by his daughters, Ubaldina Nunez, of Hood River, Angelica Lopez, of Odell, Ore., Lucia Angulo, of Wasco, Calif., and Cleotilde Angulo, of Odell, Ore.; sons, Fernando Angulo, of Portland, Ore., Heliodoro Angulo, of Holland, Mich., and Manuel Angulo, of Zeeland, Mich.; grandsons Ricardo Angulo, Andres Lopez, Luis Angulo, Carlos Garcia, Mitchell Angulo, Diego Rios, Sebastian Angulo, Erick Rios, Jorge Nunez, Eduardo Garcia and Daniel Angulo; granddaughters Ana Nunez, Viridiana Angulo, Geraldine Angulo, Yesica Rios, Jacquelyn Garcia, Daisy Rios, Evelyn Nunez, Estefania Lopez, Cintya Angulo and Elizabeth Angulo; grandsons Guillermo Nunez and Jaime Angulo. Eladio is also survived by great-great-granddaughters Yasmin and Sofia Angulo.
Eladio was preceded in death by his father, Manuel Angulo, and mother, Carmen Aispuro.
A Funeral Mass was held Tuesday, Dec. 30, at St. Mary's Catholic Church, followed by interment at St. Mary's Catholic Cemetery, 1225 Tucker Road, Hood River.
Arrangements are under the direction of Anderson's Tribute Center (Funerals, Receptions, Cremations), 1401 Belmont Ave., Hood River, OR 97031; 541-386-1234. Please visit andersonstributecenter.com to leave a note of condolence for family.