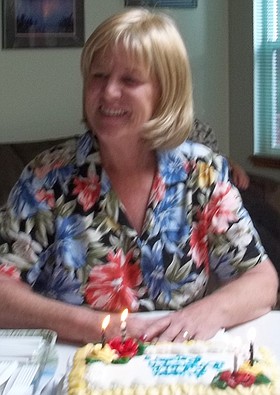 Ronda Lynn Carroll
August 18, 1953 - unknown
Heaven became a brighter and happier place when Ronda Lynn Gibbons Carroll passed away after a courageous battle with pancreatic cancer.
Ronda was born Aug. 18, l953, in Hood River, Ore., to Lee and Beverly Boyer Gibbons of Mosier. When she was 4 the family moved to Portland and Ronda attended Meek and Beaumont grade schools and graduated from Grant High School in the class of 1971. From high school, Ronda went on to complete the Portland Community College dental program and then began her 40-year career, beginning as a general dentistry assistant before finding her place in dental endodontics.
Ronda's full and adventurous life included ocean sailing, whitewater canoeing, dirt bike riding and women's competitive softball (nine years,) where she earned golden glove and all-star awards. From softball to golf she was a member of ORWGA, Broadmoor and Heron Lakes Women's Club. Putter of the Year and shooting Par 36 on Glendoveer's East course were highlights, as were playing golf in Palm Desert, Calif., Myrtle Beach, S.C., Mexico and Bali, Indonesia.
When Ronda was 14 she met the love of her life, Michael Carroll, and they were married on March 24, 1973. The next 41 years were an amazing love story for both of them and they were blessed with two sons, two grandchildren and a great-granddaughter.
Retiring in 2013, Mike and Ronda settled in to life at the beach where they renewed their love of the Central Oregon Coast. Ronda passed away in the home that she loved in the arms of her husband, Michael, and her daughter-in-law, Jami.
Ronda was preceded in death by her maternal grandparents, Louis and Albie Boyer, of Parkdale and paternal grandparents, Orval and Cora Gibbons, of Mosier; her mother, Beverly, and her brother Randall Lee; her cousins Kimberly Smith and Valerie Boyer Doherty; uncles Mel Boyer, Don Smith, Tommy and Dean Gibbons; and her aunts, Anita Rice Boyer, Rowena Manion Gibbons and Juanita Gibbons Smith.
She is survived by her husband, Michael, of Gleneden Beach, Ore., son Justin, his wife, Jami, of Bend, Ore., her son Sean, of Portland, Ore., her granddaughter Kelsi Carroll, her grandson Jordan Carroll and her great-granddaughter, Brooklyn; her father and stepmother, Lee and Christine Gibbons, of Jakarta, Indonesia, her sister, Kyra Sczygelski ,and her husband, Wes, of Sandy, Ore.; nieces Rachael Yach, of Wisconsin, Kaitlyn Sczygelski, of Government Camp, Ore., Jennifer (Sunshine) Voinovich and her son, Tyler, both of Chandler, Ariz., Debra Gibbons, of Schaumburg, Ill., and nephew Chris Gibbons, of Beaverton, Ore. Cousins surviving are John Boyer, Robin Allen, Jody Lamoreaux, Heather Muma, Jeff, Matt and Jason Smith, Darla Goe, Kathleen Rios and Lorene Ortiz, Tommy Jr. and Michael Gibbons and Kelly and Morgan McCargar. She is also survived by her uncle Harold Captain and uncle and aunt, Ed and Glenna McCargar.
Ronda will be missed every minute of every hour of every day. A memorial service/celebration of life is scheduled for Saturday, Jan. 3, at noon at St. Charles Church, the church where the couple were married, at N.E. 42nd and Emerson, Portland, Ore.
In the spring, a portion of her cremains will be placed in the family plot at the Mosier Cemetery. Even though she lived in Portland, Ronda considered Mosier her second home and had many fond memories of visiting Gramma and Papa Gibbons and playing with her cousins. In the summer the rest of her ashes will be put out to sea at the beach where she and Mike lived.