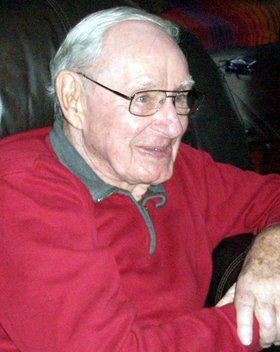 Erland "Earl" Barkuloo
August 25, 1925 - January 24, 2014
Erland "Earl" Barkuloo, of Washougal, Wash., passed away at Rock Cove Assisted Living in Stevenson, Wash., Jan. 24, 2014, at the age of 88. He was born Aug. 25, 1925, in Spokane, Wash., to Jess and Christina Imes Barkuloo.
A memorial service will be held at 1 p.m. Feb. 15 at Odell Baptist Church, followed by a potluck at the Hood River Valley Adult Center.
Earl was raised in the Spokane area, then joined the Navy in 1944. He served two years on the USS Lunga Point aircraft carrier as a radioman during World War II in the Philippines area. He was awarded several medals and citations for his military service, including the Bronze Star.
After the military he worked on ranches, a cabinet making business with his brothers, and eventually ended up in the Hood River valley working for the U.S. Forest Service until retirement.
He married Mae Prince DeHart on Aug. 5, 1970, in Parkdale, Ore. He then started his career as Dad, Grandpa, Great-grandpa, and Great-great-grandpa to all of Mae's family. He enjoyed fishing, hunting, camping, horseback riding and family gatherings. He was an avid artist, who enjoyed painting mostly horses and wildlife, but occasionally ventured out to other venues (nudes).
Survivors include two sons, Richard Stewart of Robbinsville, N.C., and Roger DeHart, of Odell, Ore.; two daughters, Luree Reagan, of Washougal, Wash., and Carolyn Duffy, of Parkdale, Ore.; 11 grandchildren, 23 great- grandchildren and 10 great-great-grandchildren.
He was preceded in death by his parents, two brothers, three sisters, his wife, Mae, grandson Ronnie Dexter, granddaughter Tammy Dexter, and great-grandson Phillip DeHart.