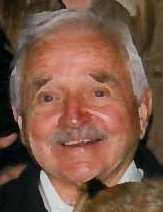 Paul John Petersen
November 12, 1923 - January 31, 2014
On the evening of Jan. 31, 2014, in Gresham, Ore., Paul John Petersen, 90, peacefully went to rest in the arms of his Savior, Jesus Christ. Born to Richard S. Petersen and Hannah Rose Snee on Nov. 12, 1923, in Newman, Calif., and raised in Alameda, he went to St. Joseph's High School where he became an unwavering Catholic.
After serving in the United States Air Force in World War II, he returned to the University of San Francisco to get his degree. Upon graduation he worked as a logger in the Sierras until having an appendectomy and then returned to San Francisco where he earned his certificate as a public accountant.
In 1969 he culminated his career as the business manager of Hartnell Community College in Salinas. Upon retirement he moved to Hood River, Ore., where he opened a CPA practice and enjoyed the Knights of Columbus, the Elks and United Way. One of his last hurrahs of community service was being elected as the city treasurer of San Juan Bautista at 82 years of age.
He was an honest man who took pride in providing for his family, his wife of 59 years, Jeanne; sons Jim (Patty) of Salinas, Jon, of Sacramento, and Joe (Jeannette) of Lodi, and daughters Janice Beeghly (Dan), of Gresham, Ore., and Julie Brigantino (Chris), of Hollister; 18 grandchildren, 10 great-grandchildren and another on the way. He was a blessing to us all and we are thankful.
On Feb. 10 at 9 a.m., Paul will join his wife for the last time at the Santa Nella Veterans Cemetery.