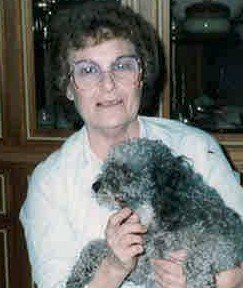 Edith Coletta Wabschall
April 6, 1928 - February 18, 2014
Edith Coletta Wabschall, formerly a Hood River resident, was surrounded by family and loved ones when she passed away at the age of 85 at Marquis Care in Newberg, Ore., on Feb. 18, 2014. She was born April 6, 1928, in Williston, N.D., to Albert and Hazel (Tehan) Perry.
Edith was raised and attended schools in Williston. She married Delmer Wabschall, also of Williston, on Aug. 26, 1950, in Coeur d'Alene, Idaho, and they made their home in Hood River, Ore., after Delmer finished his service in the Army. They were together for 55 years, before Delmer's passing in 2005.
Edith retired in 1983, after working 32 years for the Oregon State Employment Division in both Hood River and The Dalles. She began her career as a secretary and finished as a claims adjudicator.
In the mid-1980s after Delmer retired, they moved to Centralia, Wash., where they owned and operated Myron's Tavern for five years. They returned to Hood River in the early 1990s after selling the tavern to fully enjoy retirement.
Edith enjoyed league bowling and often bragged about her basketball skills, which earned her a letter in high school. In her retirement, she enjoyed taking long walks, traveling, cooking, reading, and spending time with her family.
Edith had a quick wit and a great sense of humor. In later years, her feistiness earned her the admiration of many of her caretakers. She was fond of animals and always enjoyed visits from furry friends.
Edith is survived by her children, Steven (Suzanne) Wabschall, of Scappoose, Ore., Loree (John) Reinhardt, of Newberg, and Kelly Wabschall, of Hood River. She is also survived by grandchildren Aaron and Jamie Wabschall and Travis, Jerad and Zachary (Tiffany) Reinhardt; great-grandsons Bret and Nolan Reinhardt; and many nieces and nephews.
Edith was preceded in death by her six siblings: brothers Frank and Albert and sisters Ramona, Charmen, Doris and Vivian.
The family extends a special thanks to the staff at Marquis Care at Newberg for the loving and devoted care Edith received during her residence. A celebration of Edith's life will be held in the spring.
Memorial contributions may be made to PROD (Promoting Responsible Ownership of Dogs), 7741 Cook-Underwood Road, Underwood ,WA 98651.