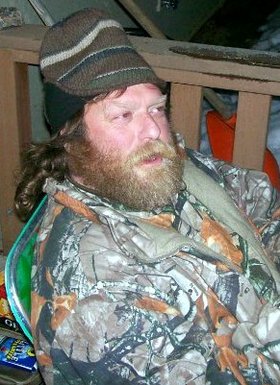 Derrick "Scotty" Osbourn
April 13, 1963 - December 29, 2013
Derrick "Scotty" Osbourn, 50, passed away Sunday, Dec. 29, 2013, at his caregiver's home in Parkdale, Ore. Scotty was born April 13, 1963, in White Salmon, Wash., to John Osbourn and Dorothy Miles.
Services are planned from 1-4 p.m. Sunday, Jan. 5, at the Hood River Valley Adult Center, 2010 Sterling Drive, Hood River, with continuing fellowship and potluck at Hood River Eagles Aerie, 2290 Tucker Road, Hood River.
Scotty grew up in the Odell, Ore., area. The family lived in a rental house on the Merril Graves fruit ranch.
When he was almost 6 years old his mother bought him a little blue Honda motorcycle. He loved that bike and you usually knew where he was by the sound outside. He also rode with three other little boys on motorcycles. In his youth he also played basketball and Little League.
Scotty went to school in the Odell area, later getting his GED. He learned a lot by doing, not in books; a Special Award of the ninth grade says "This certifies that Scott Osbourn has been part of the 'Class of 81'"; the last line says: "Overall, you're a Great person to be around, and with all of these great qualities, you're sure to succeed!"
Scott loved the outdoors, fishing, hunting, camping out, bonfires and drinking beer with his friends. He loved cutting firewood for people. He just loved people; he also liked to spend time alone with the animals and the nature of the woods. Scotty was a free spirit and generous; he wouldn't say a bad word about anyone.
Scott is survived and will be dearly missed by his son, Derrick Osbourn, and spouse Bryndal Carroll of Hood River; his grandson, Cyris Raven Osbourn, of Parkdale; his mother, Dorothy, and her husband, Sheldon Peltier, of Hood River; father, John Osbourn, and his wife, Leona, of The Dalles; his sister, Cynthia McClung, of Dufur; uncles Ward Miles, of White Salmon, Wash., Jerry Osbourn and his wife, Phyllis, of Odell, Jack Osbourn and his wife, Joyce, of Odell, and Jimmie Osbourn and his wife, Trudie, of Hood River; and many other family members and friends.
He was preceded in death by his grandparents, Bill and Dorothy Osbourn and Harry and Doris Miles; his uncle Harlen Miles; his aunt Anita Miles; and cousins Kay and Karen Miles.
Memorials are encouraged to be made in Scottie's name to Hospice of the Gorge and the trust fund set up by the family for his grandson Cyris Osbourn's education at CenterPointe Community Bank.
A private family scattering ceremony is planned.
Arrangements are under the direction of Anderson's Tribute Center (Funerals, Receptions, Cremations), 1401 Belmont Ave., Hood River, OR 97031; 541-386-1000. Please visit andersonstributecenter.com to leave a note of condolence for family.

Condolences are being received online.