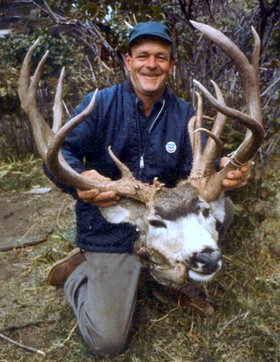 Floyd "Tiny" Baskins
December 24, 1925 - December 29, 2013
Floyd "Tiny" Baskins Sr., 88, passed away Sunday, Dec. 29, 2013, at his home in Odell, Ore., with his family by his side.
Tiny was born Dec. 24, 1925, in Narka, Kansas, to Beulah (Durflinger) and Roy Baskins. Tiny was the youngest of five brothers and after he was born the family moved to Missouri. In the 1930s the family moved to Hood River, Ore., to work in the fruit orchards.
Tiny graduated from Odell High School in 1943. In February 1944 he enlisted in the Navy and was stationed in Hawaii during World War II. He was honorably discharged June 3, 1946.
Tiny married Norma Jean Himes Nov. 23, 1947. They had four children: three sons and one daughter. Tiny and Norma resided in Odell all of their lives, owning and operating the Shell station until 1968. In 1971 they purchased an orchard, where they worked until Tiny retired in 1988.
After retiring, Tiny and Norma enjoyed many years of camping, fishing and hunting with friends and family. Some of their favorite places were the Deschutes River, Jordan Valley, Leslie Gulch, Ochoco Reservoir and the Snake River.
In addition to his parents and baby sister, Francis Louise, Tiny was preceded in death by his four brothers: Dean Baskins, Leland (Short) Baskins, Delmar Baskins and Gloyd (Jimmy) Baskins.
Tiny is survived by his wife, Norma, and his children: Floyd Baskins Jr. (and wife Janet), of The Dalles, Ore., Ron Baskins (and wife Louella), of Sheridan, Ore., Connie Rose (and husband Frank), of Parkdale, Ore., and Bill Baskins (and wife Debi), of Odell, Ore..; 14 grandchildren: Kathi Sparks (and husband Jody), Bobbi Lynn Baskins, Larry Baskins, Mark Baskins, Ronnie Baskins (and wife Natalie), Christine Heisler (and husband Charles), Hydie Kazel (and husband Lenny), Kellie Hughes (and husband Scott), Trish Preston (and husband Mark), Brian Baskins, Brandy Baskins, Jerry Baskins, Jennifer Rober (and husband Ken), and Ronald Smith; 22 great-grandchildren and numerous nieces and nephews.
A private family service is planned for January.
There will be a celebration of Tiny's life for all of his friends and family in the summer of 2014.
In lieu of flowers, gifts can be made to one of the following organizations: Odell Fire Department, or Providence Hospice of the Gorge.

Condolences are being received online.