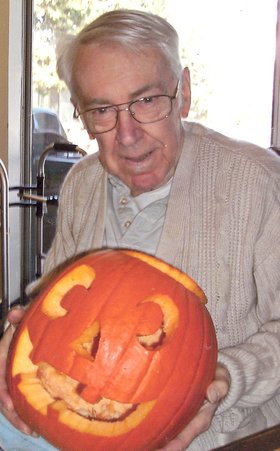 Robert Mahlon Fogle
November 16, 1934 - December 28, 2013
Robert Mahlon Fogle, 79, passed away Dec. 28, 2013, at the Hood River Care Center in Hood River, Ore., of complications due to Parkinson's disease. He was born Nov. 16, 1934, in Tacoma, Wash., to Bud M. and Georgia (Johnson) Fogle. He graduated from high school in Tacoma, Wash., and earned his bachelor's degree at Puget Sound College (University of Puget Sound).
Robert sold insurance in the community of Lake Oswego, Ore., after graduating college. He seized upon an opportunity to move his family to Hood River to become an agent for R.E. & Tom Scott selling insurance in the early 1960s. He later became an owner and partner with Bill Pattison and Marvin Sagnotty once Tom retired.
Robert eventually sold his share of the business and moved to San Diego, Calif., where he worked on the production side of a small outdoor clothing company. He decided he missed Hood River and returned to take a position selling real estate with longtime friends Don and Janet Nunamaker.
After awhile Robert decided he needed warmer climate again so he moved back to San Diego, where his sister and brother-in-law, Barbara and Cletis (Davon) Hawkins, were glad to have him in their lives. Robert went to work for Macy's department stores selling men's clothing and fine furnishings.
Robert decided to "retire" and move back "home" to be closer to his children. He joined his son and daughter-in-law and helped them operate the local Hood River Sears Dealer Store until his official retirement.
Robert was an avid skier. He taught skiing at Cooper Spur Ski Resort before Mt. Hood Meadows even existed. Robert helped design and set many of the race courses for kids from the Hood River area during their weekends at the mountain. He taught his two older children how to ski and made sure his youngest daughter was at the mountain snowboarding whenever she visited the area. Robert later worked at the "new" ski area so his children could enjoy the life of skiing and being on the mountain as much as he did.
Robert was also an avid painter until his death. His forte was oils and acrylics. He entered and judged many local and regional contests, and won many awards and accolades for his work. He volunteered for local artist foundations over the years and never sold any of his works; in fact; he gave them to friends and family members or he simply painted over his pieces with something new.
He tried teaching his kids the intricacies of his hobby, but unfortunately he was the only member of his family with this type of talent.
Robert was very active in Hood River politics. He was a campaign chairman for many local and district politicians running in the area and statewide and was also the local committee chairman for the Republican Party in the late 1960s and early 1970s for Hood River and Wasco counties.
He felt one of his greatest accomplishments was helping to get the Hon. John Jelderks elected to the Circuit Court of Oregon.
Robert was also very active in Hood River Little League. He was president of HRLL during the resigning of the lease for the property where the current field resides. Robert, along with Ralph Bigelow and Jim Winters; planned, designed and oversaw the expansion of Little League baseball fields in Hood River during the 1960s. The "minor" (softball) field in Hood River and two older fields no longer being used in Odell and Parkdale can be attributed to their hard work and dedication. Remnants can be seen of the field in Odell which use to be on the property behind the school district bus garage.
Robert was a member of the B.P.O. Elks. He was the chaplain for many years, helping his beloved organization accomplish many activities throughout the community. Toys for Tots and the Hoop Shoot were some of his favorite programs to be involved with.
At one time or another he was also a member of almost every other fraternal or civic organization in Hood River while his family was being raised in Hood River. However his favorite organization was his Brotherhood of Elkdom.
Robert is survived by his son and daughter-in-law Daryn and Sue Fogle, of Hood River, daughter Stacia Fogle, of Portland, Ore., amd daughter and daughter-in-law Michelle (Mitch) Fogle and Michelle Witmer, of Brighton, England; sister and brother-in-law Barbara and Cletis (Davon) Hawkins, of San Diego; grandchildren Jarrod and Ashley Fogle, of Hillsboro, Ore., Jeremy Fogle, of Jacksonville, N.C. (Camp LeJune), Jordan Fogle, of Portland, Ore., Tucker and Deborah Sue Brooks, of Buckeye, Ariz., and Sierra Brooks, of Portland, Ore.; and great-grandchildren Brayden Fogle and Jeffrey Brooks.
He was preceded in death by his parents, Bud and Georgia Fogle, and son-in-law Jim Brooks.
Arrangements are under the direction of Anderson's Tribute Center and interment will be at Idlewilde Cemetery.
Per the wishes of the deceased there will be no formal ceremonies celebrating his life.
It was Robert's wishes for contributions donated in his honor be sent to any organization of your choice fighting to end Parkinson's disease.

Condolences are being received online.