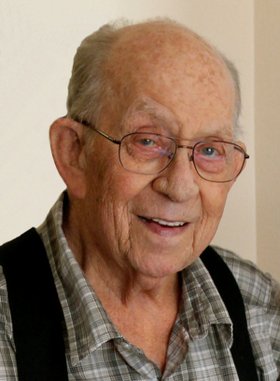 Albert Charles Johnsen
September 27, 1929 - December 8, 2013
Albert Charles Johnsen, 84, passed away at Good Samaritan Hospital, San Jose, Calif., on Sunday, Dec. 8, 2013, a 40-year resident of Santa Clara County. Al was born in Hood River, Ore., Sept. 27, 1929, the eldest son of Luella (Nielsen) and Arthur Clarence Johnsen.
Al graduated from Hood River High School in 1947 where he lettered in football, played the sousaphone and was student body vice president. He then attended Eastern Oregon College (EOC) in La Grande, Ore., for two years, followed by a year at Whitman College in Walla Walla, Wash.
Al married his EOC sweetheart, Lois Elaine Stofft, in her hometown of Baker, Ore., on June 25, 1950. They settled in Hood River, where Al worked with his father in the family business, Johnsen Shoe Store, located at 305 Oak St. in downtown Hood River. His grandparents, John Christian and Annie Johnsen, founded the business in 1908.
Al was involved in many civic organizations, including the Masons, Elks, Toastmasters, Lions Club and the Chamber of Commerce. He was also a Hood River volunteer fireman for nine years and was appointed captain of Company 1. In 1958, Al was elected commissioner of the Port of Hood River.
He cultivated a love for the outdoors and everything to do with the rivers, lakes and seas as a young lad. He was a lifeguard and a BSA Sea Scout. He enjoyed camping at the "Johnsen spot" at Lost Lake every summer with his wife and first three daughters. And when daughter number four swam with the Santa Clara Aquamaids, Al participated in the father's group synchronized swim routines.
He also enjoyed fishing, hunting, skiing, climbing and flying. At 15, he was a lookout fireman on Mount Defiance, the highest summit on the Columbia River Gorge. He was also instrumental in organizing the Hood River Archery Club and became its president for a year.
On July 26, 1946, be climbed to the summit of Mount Hood with the American Legion, Hood River Post No. 22, guided by the Crag Rats. He was also a member of the Alpinees of Hood River.
He loved to fly and took lessons from the airport in Dallesport, Wash., flying a Taylorcraft over the Hood River Valley and Columbia Gorge. Later in life he had a rare opportunity to take the controls of the Goodyear Blimp, Columbia, on a complimentary flight in Salem, Ore.
Al kept busy with artistic pursuits. These included works in pencil, charcoal, pastels and oils, sculpture in lava rock, wood carvings and rock tumbling to make jewelry. He spent time with a local artists group in Kansas City and entered an art show in the late 1960s, winning first prize for a lava rock sculpture.
In the mid-1970s, Al took up training in real estate, sold houses a couple of years and even was a salesman of the month. Al earned a bachelor's degree in business administration from the University of San Francisco in 1978. He retired after 27 years from Consolidated Freightways, Menlo Park, in 1992.
Retirement allowed Al and Lois to research their ancestry, including a decade-long membership in the Santa Clara County Historical and Genealogical Society. They were also members of the Sons of Norway, Nordahl Grieg Lodge 6-52, Los Gatos, Calif.
Al was preceded in death by his wife, Lois, in May 2011.
He is survived by his four daughters: Janet J. Brown and her husband, F. Quincy, of El Dorado Hills, Calif., Rebecca Johnsen, of San Jose, Calif., Joanne J. Riske and her husband, Al, of Sunnyvale, Calif., and Gretchen Clark and her husband, Alan, of Phoenix, Ariz.; three grandchildren, Nicholas Q. Brown and his wife, Brittany, of Pearl City, Hawaii, Avalon Clark and Holiday Clark, of Phoenix, Ariz.; and his first great-grandchild, Kai Q. Brown, of Pearl City, Hawaii; brother, Edgar Johnsen, of Salem, Ore., and his family; and sister-in-law, Joyce Stofft, of Raleigh, N.C.
Memorial service and interment will be at the Los Gatos Memorial Park, San Jose, Calif., on Saturday, Feb. 8, at noon. Al would love the idea that family and friends donate to their favorite nature charity or donate a book to a local library in his name. Reading was like breathing to Al and having a new book was life's affirmation.