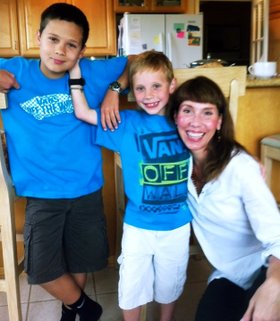 Lara Elaine Voeks
March 9, 1972 - November 10, 2013
Lara Elaine Voeks, 41, passed away suddenly on Nov. 10, 2013, in Johannesburg, South Africa. She was born in Huntington Beach, Calif., on March 9, 1972, and graduated from Los Amigos High School. She later attended San Diego State University, and California State University, Fullerton, where she graduated with a degree in Latin American Studies.
In her early years she lived and breathed ballet, but a career-ending injury forced her to shift to running marathons and eventually triathlons. She traveled extensively in Central and South America, but "discovered" the Columbia River Gorge in 2003, and soon after moved to Hood River with her family. She adored the region, and so often said that she felt blessed to be able to live here.
Lara was a lifelong gym devotee, and was obsessed with walking. Her power walks on the Twin Tunnels Trail, often wearing 50 pounds of body weights and led by her German shepherd, made her quite the sight. But that was her way.
Never shy or retiring, Lara was charismatic and more than a little ribald. She had sparkling eyes and an infectious smile. Her most compelling personal trait was her ability to connect with people, especially strangers. She never forgot a name or a face.
Because of early adversities in her own life, she felt drawn especially to the disadvantaged. She never felt above anyone. Lara loved many, and was loved by many. She adored dogs and her husband Robert, not necessarily in that order. Her greatest joy in life was raising her sons, Leif and Owen and Bobby and Kai.
She always said that somehow her destiny was in Africa, and she finally had the opportunity to live her dream when she moved to Mozambique with her family last year. She was organizing ballet classes for little girls in a poor neighborhood of Maputo when her life was taken from her.
A memorial is planned for June 28, when the family returns from Africa.