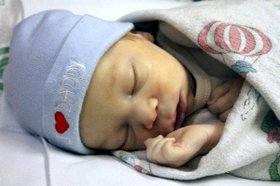 Sheldon Anthony Chandler
December 21, 2013 - January 6, 2014
Sheldon Anthony Chandler was born Dec. 21, 2013, in Hood River, Ore. He passed away Jan. 6, 2014.
In only 16 days Sheldon taught so many people so many beautiful life lessons and shared his love, strength, and courage with all privileged to meet him. He has forever touched our hearts and souls and will NEVER be forgotten.
Sheldon is survived by his loving parents, Amanda and Kenton Chandler, and his four brothers: Austin, Gus, Lane, and Hugh.
Thank you to all the support from family, friends and the community during this difficult loss and a special thank you to the doctors and nurses at both Providence Hood River Memorial hospital and Randall's Children hospital NICU who worked so hard to keep Sheldon here and showed so much love and compassion.
Also, a special thank you to Anderson's Tribute Center for their kindness and generosity.
Donations to the family may be sent to the Hood River branch of Columbia Bank. For further donation info or ideas please contact Melissa DelCarpine at 541-399-3792.