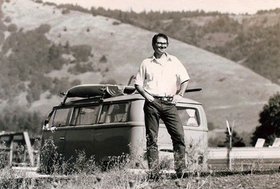 Robert "Bob" Paul Erspamer
February 25, 1956 - January 11, 2014
Robert Paul Erspamer, 57, passed away peacefully on the morning of Jan. 11, 2014, at his home in Hood River, Ore. Bob was born Feb. 25, 1956, in Santa Monica, Calif. He grew up in Santa Monica after his family located there in 1967. He attended Santa Monica public schools and later Santa Monica College.
Bob took up surfing as a teenager and was a regular at Santa Monica's Bay Street surf break in the 1970s. His passion for surfing and his natural artistic abilities morphed into a career as a professional surfboard builder and laminator. He worked for Blue Cheer, Ocean, and Natural Progression surfboard companies during the 1970s and early '80s.
As surfboard manufacturing trended toward sailboard manufacturing, Bob saw a new business opportunity and moved to Hailey, Idaho, where he formed Cascade Sailboards with his friend Gary Swanson. The company served a clientele of windsurfing enthusiasts, who flocked each summer to Magic Reservoir, adjacent to nearby Ketchum, Idaho. Bob spent many winters windsurfing in the warmth of Cabo Pulmo, near the southern tip of Baja California.
After a severe drought nearly emptied Magic Reservoir, Bob and Gary relocated the business to Mosier, Ore., in the Columbia River Gorge, where it grew and prospered. "The Gorge," as it is widely known, draws wind and kite surfers from around the world to experience conditions tailor-made for these challenging sports.
At age 31, Bob was diagnosed with late-onset muscular dystrophy, a rare and debilitating disease characterized by progressive muscle degeneration. For the rest of his life, Bob's body, though never his spirit, would be slowly debilitated by this disease.
In 1989, while he was still able to get around well, he and his two brothers toured Australia. It was there on a mountaintop that he met his future wife, Serena Muratore, a native Australian of Italian descent. The two were wed a year later in Melbourne and settled in the beautiful town of Hood River, Ore.
Due to the physical demands of sailboard manufacturing, Bob decided to switch gears and purchased The Gift House, a charming gift shop that he and Serena operated together until her passing in 2010. The shop remains in operation today.
As his disease progressed, Bob enjoyed playing online Scrabble and poker, coin collecting, monitoring live surf cams and surf contests, and catching up with friends and family on Facebook. He also took pleasure in music, a nice, cold Tecate beer, and rooting for his beloved Seattle Mariners.
He handled his long physical battle with a silent grace that was admired by all who knew him. He rarely, if ever, complained about his decades-long struggle and instead chose to help console others in their time of need.
We will never forget his courage to live every day with a smile, and the sarcastic-leaning humor we knew, loved and will miss. He is now at peace.
Bob is survived by his parents, Edna Reddington Erspamer and Franco Erspamer; his sisters, Elaine Marchant and Carla Fantone; brothers Tom and Steven Erspamer, and sister-in-law Joanne Erspamer, as well as his companion cat, Gypsy.
He was predeceased by his big sister, Sharon Erspamer, in 2004.
All friends and family are cordially invited to a celebration of Robert's life that will take place on Saturday, Feb. 1, from 3-5 p.m. at the Hood River Hotel, 102 Oak St., Hood River.
Arrangements are under the direction of Anderson's Tribute Center (Funerals, Receptions, Cremations), 1401 Belmont Ave., Hood River, OR 97031; 541-386-1000. Please visit andersonstributecenter.com to leave a note of condolence for family.

Condolences are being received online.