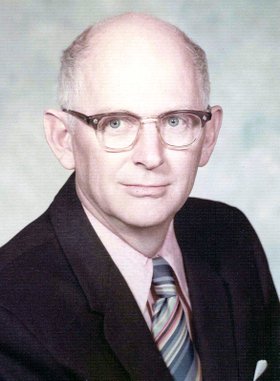 Harold Raymond Frisbie
July 1, 1920 - January 26, 2014
Harold Raymond Frisbie died Jan. 26, 2014, with his wife and family by his side.
Harold was born July 1, 1920, in Storm Lake, Iowa, to Harold Hamilton and Ruth (Peterson) Frisbie. He was followed by a brother, Don (now deceased) and a sister, Marjorie. The family moved from Iowa to Oregon in the late 1920s, eventually settling in Hood River.
Harold graduated from Hood River High School, class of 1938. He went to college at Oregon State University to study chemical engineering, completing his undergraduate degree, followed immediately by entering the Navy service during World War II. He served in the Bureau of Aeronautics, distributing aircraft parts in the South Pacific.
When the war was over he stayed in Philadelphia for six months organizing the scrapping of airplane parts before returning to OSU to pursue a master's degree in chemical engineering.
In Corvallis, his sister Marjorie introduced him to one of her sorority sisters, Naomi Harshbarger. Harold cut a very dashing figure in his Navy uniform, and was a terrific dancer, and soon a great and lasting partnership was created.
Harold and Naomi were married in Ashton, Idaho, on Sept. 7, 1947. Harold started a career working at Shell Oil Company, and he and Naomi started a family together — first a son, Norman, in 1950 and then a daughter, Joella, in 1952. The growing family moved to Martinez, Calif., where Margie was born in 1957.
California was a good place to work and raise a family, but the Hood River Valley was where Harold and Naomi wanted to retire after working for Shell Oil for 33 years. They purchased a small orchard, with a great south-facing exposure, where they could have a big garden and grow flowers (especially dahlias) and there was plenty of room for Harold's "creepy crawly" patch.
Besides working on the orchard and garden, Harold volunteered for Odell Lions and the history museum. He was a voracious and eclectic reader and life student. He would buy advanced mathematics books and would study the books and work the problems.
He was a true numbers guy — always able to tell you how many pages he had read in his latest book, and the number of daffodils blooming in their yard (early in the season before there became too many to count).
He was a terrific husband, father and grandfather and will be deeply missed by his wife, Naomi; son, Norman; daughter Joella and her husband, Paul Dethman; daughter Margie and her husband, Jim Byrne, all of the Hood River Valley; and his three grandsons: Jesse Dethman of Torrence, Calif., Craig Dethman, of Seattle, Wash., and Matt Byrne (and fiancé Michelle), of Mosier, Ore. He is also survived by his sister, Marjorie Oates, and brother-in-law Jimmie Oates, as well as numerous nieces and nephews and extended family.
A memorial service will be held at 3 p.m. Thursday, Jan. 30, at Anderson's Tribute Center, 1401 Belmont Ave., Hood River, OR 97031; 541-386-1000. Please visit andersonstributecenter.com to leave a note of condolence for family.
In lieu of flowers, the family suggests contributions to Heart of Hospice, Lions Sight and Hearing Foundation or the FISH food bank building project.

Condolences are being received online.