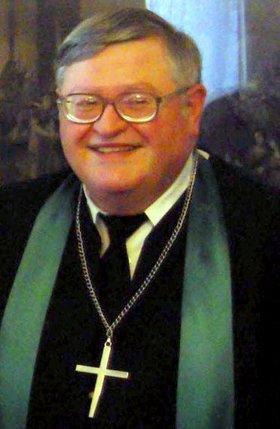 Walter Arthur Gustav Baumann
June 26, 1952 - June 26, 2014
The Rev. Walter Arthur Gustav Baumann, the son of Walter Herman Baumann and his wife, Fern Margaret Belanger, was born in Wausau, Wis., June 26 of the year of our Lord 1952.
Already in very early infancy he was received into God's Kingdom of Grace through the Sacrament of Holy Baptism, which baptismal vow he renewed on the day of his confirmation, April 3, 1966.
He graduated from Wausau Senior High School (East) in 1970 and the University of Wisconsin-Stevens Point in 1974 with a teaching degree in German, Spanish and French. In 1975 he attended Martin Luther Institute of Sacred Studies near Shepherd, Mich. His two summer vicarages were at Trinity Ev. Lutheran Church, Piedmont, Mo., and Emmaus Ev. Lutheran Church, Chicago, Ill. He graduated from MLISS on Jan. 27, 1978.
He was ordained into the holy ministry on June 11, 1978, in his first parish, Trinity Ev. Lutheran Church of the Reformation, Courtland, Ontario, Canada.
On Jan. 1, 1980, he also began serving Christ the Master Ev. Lutheran Church in Walled Lake, Mich., evenings, first as vacancy pastor and then as the called pastor. He taught classes half-weeks in the parochial school.
In 1983 he accepted a call from Gloria Dei Lutheran Church, Hood River, Ore., and moved there in November 1983. He also taught numerous subjects in their parochial school and served many terms as principal. He made brief trips to Nigeria and Kenya for Lutheran Churches of the Reformation and was given a leave of absence to preach and teach at a mission in Rastatt, Baden-Wuerttemberg, Germany, for six months in mid-1996. He also served as LCR Missionary-at-Large (West), while pastor of Gloria Dei.
For many years he was active as a volunteer with the Oregon State Police (Fish and Game Division, "53-V2"), the American Red Cross, and the reopened Hood River County Library. As N7PHW he was a member and officer in several area amateur radio clubs, an FCC volunteer amateur radio license examiner, as well as member of the Amateur Radio Emergency Service of Hood River County and Wasco Amateur Radio Service of Wasco County.
Pastor Baumann departed this earthly life on June 26, 2014, exactly 62 years from the date of his birth.
He leaves to mourn his passing his brother Dale, and sisters Gayle and Usona (Mallak), three nieces and a nephew, all of Wausau, Wis., members of his congregation, and friends.
His mortal remains will be committed to the family plot in St. Paul's Ev. Lutheran Church Cemetery, Naugart, Wis.
May the dear Lord in His boundless grace and mercy, grant to the lifeless body rest in the bosom of the earth, and hereafter, together with all true believers in the Lord Jesus Christ as their Savior, a joyful resurrection unto life everlasting.
Funeral services will be held at Gloria Dei Lutheran Church, 4320 Portland Drive, Hood River, at 2 p.m. Thursday, July 3. Visitation will be from 9-11 a.m. at the church on the same day.
Arrangements are under the direction of Anderson's Tribute Center (Funerals, Receptions, Cremations), 1401 Belmont Ave., Hood River, OR 97031; 541-386-1000. Please visit andersonstributecenter.com to leave a note of condolence for family.