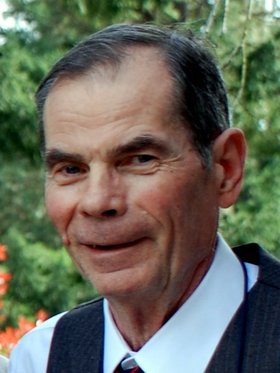 Donald "Don" Vincent Reinig
July 16, 1937 - June 29, 2014
Donald "Don" Vincent Reinig passed away quietly at age 76 on Sunday, June 29, 2014, surrounded by his loving family in Beaverton, Ore. Don was born July 16, 1937, in Panama, Iowa, to August and Mary (Kenkel) Reinig. The youngest of 11 children, he grew up as a farm boy in Iowa. After graduating high school, he attended one year of college and then enlisted in the Army. He was honorably discharged after completing two years of active service. He continued his education at Creighton University in Omaha, Neb., where he went on a blind date set up by his friend Jerry. He immediately hit it off — not with his date but with his friend Jerry's girlfriend, nursing student Joyce Roach. It was clear that they were meant for each other.
Joyce and Don began dating while they each finished their studies. After graduating with a degree in economics and math, Don went to work for International Harvester as a credit representative. He was soon transferred to Portland, Ore. When Joyce came to visit him, he proposed and she accepted. They were married back in Omaha, Neb., on Dec. 28, 1963, and celebrated with a party that reportedly started at 11 a.m. and continued until 2 a.m. the next day.
Don continued working for International Harvester until he purchased his own dealership, Central Sales Inc., in Hood River in 1971, where he would then raise his family, retire and spend most of his remaining life. Don was well liked by everyone who met him and known to be a very kind, generous, patient, honest and fair man with a great sense of humor. He was an active member of St. Mary's Catholic Church, Knights of Columbus, the Elks Lodge, Rotary Club and supporter of Future Farmers of America.
He loved hiking, snowmobiling, skiing, playing cards and spending time with his wife, daughters, sons-in-law and 10 grandchildren. Family was always important to him. He spoke often and fondly of his early years in Iowa growing up with five older brothers and five older sisters and playing with many of his 68 nieces and nephews.
He spent the last several years of his life battling the progression of Alzheimer's disease. He was able to stay in his home in Hood River until March of 2013, when it became necessary to move him to an adult care home in Beaverton. He remained there through the end of his life. He will be greatly missed but he is now free and able to finally rest in peace.
Don is survived by his wife of 50 years, Joyce; his daughters and sons-in-law, DeLee and Dick Shoemaker, Jennifer and Paul Ryan, all of Seattle, Wash., Michelle and John Becker of Portland, Ore., Molly and David Montgomery of Long Beach, Calif.; his 10 grandchildren, Tom and Dan Ryan, Samantha, Robert and Riley Shoemaker, Grace, Klaus, and Maura Becker, and Callaghan and August Montgomery.
He is also survived by his siblings and their spouses, Tony and Mildred Reinig, Alvin and Millie Reinig, all of Harlan, Iowa, Joe and Arlene Reinig, Mary (Reinig) Slaven, all of Portsmouth, Iowa, Cecilia (Reinig) Tunnell of San Luis Obispo, Calif., and his sisters-in-law Virginia Reinig of Portmouth, Iowa, and Betty Reinig of Overland Park, Kansas.
A funeral mass will be held at St. Mary's Catholic Church in Hood River on Monday, July 7, at 11 am. Don's ashes will be buried in Portsmouth with the rest of his family.