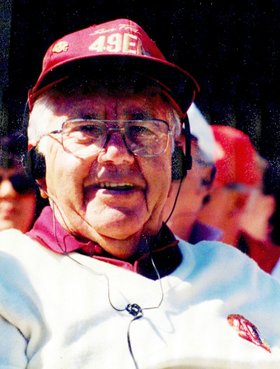 Glenn Arthur Wetterstrom
June 3, 1913 - July 2, 2014
On July 2, 2014, Glenn Arthur Wetterstrom, at the age of 101, passed away at his home of 61 years, surrounded by his loved ones. Glenn was born June 3, 1913, to Arthur and Anna Carlson Wetterstrom in Sunnyvale, Calif.
The Wetterstrom family moved to Sunnyvale in 1909 to open a small store to sell imported teas and coffee. It was later expanded to include coal, wood and hay.
The Wetterstrom enterprises collapsed during the Depression. To support their four boys, Anna and Arthur sold ice cream for a while and then operated a used furniture store.
The couple was a community booster and received local attention for including pamphlets on the history of Santa Clara Valley in their shipments.
Arthur Wetterstrom died in 1937. Glenn and his three brothers kept the family together by delivering for a local pharmacy (by bicycle), selling newspapers for the San Jose Mercury Herald and picking prunes during the summer. (Dad prided himself on being a "prune picker.")
Glenn graduated from San Jose Tech in 1934 where he played baseball and basketball. In fact, he stayed an extra year to play ball. He worked at Bean Tire and Rubber, Heple Construction, where his passion for building things began and continued until a few years ago, and retired from West Valley Construction in 1976.
He married the love of his life and partner of 52 years, Dorothy McReaken, on Sept. 19, 1942. The first day of the honeymoon was spent watching a doubleheader baseball game in Sacramento and then on to Lake Tahoe.
In 1944 daughter Suze was born and in 1947, daughter Kathy. Our family took many memorable road trips — New York City, Washington, D.C. — but his favorite place was camping at Lake Tahoe.
Glenn lived sports — he played softball in the Observatory League travelling to Modesto, Fresno, and Salinas, and in 1990 was inducted into the Santa Clara County Softball Hall of Fame. He began ushering for the San Jose Jo Sox/Bees in 1948 where he continued for 25 years doing what he loved most: watching baseball and interacting with people.
In 1960, he became a season ticket holder for the 49ers and in 2005 was publicly recognized at Candlestick Park accompanied by his grandson, Bryce DeWett. He proudly wore the Stanford RED working security and taking tickets. He was involved in high school sports through 2006: the Big Bone Game between San Jose and Lincoln High Schools and organized ticket takers for Bellarmine Prep, Buchser, and Mt. Pleasant High Schools. He was inducted into the Bellarmine Prep Athletic Hall of Fame in 2001.
Glenn was predeceased by his parents; wife Dorothy; brothers Edwin, Earle and Russell; and son-in-law Dave DeWett.
Glenn is survived by daughters Suze (John) Nigl, of Hood River, Ore., and Kathy DeWett, of Morgan Hill; grandchildren Trish (Vince) Catalano, of Morgan Hill, Bryce (Jovi) DeWett, of San Jose, and Michelle Nigl-Chang (Bill), of Portland, Ore.; great-grandchildren Kevin DeWett, Laura DeWett and Eva Nigl-Chang; niece Sharon Nellis; nephews Larry and Rick Wetterstrom; great nieces and nephews, and by his extended family including Barb and John Mellen, his loving and caring neighbors, and his wonderful caregivers, Edwin and Nancy.
Enjoy playing ball in Heaven — Mom is cheering for you in the stands.